Co-op with Norfolk Southern Will Prepare Jaboree Muhammad for Career in Programming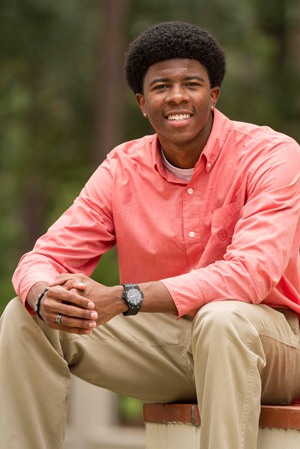 Jaboree Muhammad
VALDOSTA – As students get into the swing of new classes at Valdosta State University, senior computer science major Jaboree Muhammad embarks on his first week as a positive train control employee at Norfolk Southern Corporation's Atlanta office. Through VSU's Office of Career Opportunities, Muhammad has been able to secure a full-time, paid cooperative education opportunity with the Fortune 500 company and will also earn academic credit hours during fall semester.
Throughout the semester Muhammad will provide support to managers and directors of the transportation company on several projects. He will work on the system used to control trains, participate in developing test cases and be involved in the creation of testing tools and testing automation. He will earn $3,125 monthly and receive a $700 stipend for living expenses during his time with the company.
"I am excited to have an opportunity like this, which will allow me develop my skills and put the programming and coding skills I have learned in school into practice," said Muhammad. "In my field, experience is very important and having a degree alone will not cut it. I feel like this co-op opportunity will put my competence to the test and set me apart."
Muhammad is one of many students the Office of Career Opportunities assists in locating jobs, internships, shadowing experiences and co-ops every semester. The office helps students build their resumes while in college by identifying positions that mirror their majors and career preferences. Through the office, students have completed summer internships with employers like PCA, Tampa Bay Buccaneers and Walt Disney World.
"I was very fortunate because the time frame between me going in to the office and getting this co-op experience was very short," said Muhammad, who would like to become a software programmer after graduating in May 2015. "I was determined to find something, so I worked closely with Mrs. Ieshia Walker and she helped me find some companies of interest. Norfolk Southern was the first company that I heard back from and after two interviews I was offered the position. I am grateful to the Office of Career Opportunities for the help I received. I wish I had started working with the office my freshman or sophomore year."
Dr. Gerald Williams, director of Career Opportunities, suggests that students begin to work with the office as soon as they start college.
"One thing we stress to students is that a degree does not equal a career," said Williams. "There are also misconceptions about what majors will be best for certain careers. These are the kinds of conversations that we have with students early on so they can go into their careers fully prepared after graduating."
Career counselors help steer undeclared majors in the right direction, teach courses in the freshman learning communities, help students find shadowing opportunities and work closely with the Office of Centralized Advising to ensure that academic goals and career aspirations align.
"We are trying to do everything we can to make students think about their careers as early as possible," said Williams.
The Office of Career Opportunities will hold its first event of the semester, The Encounter, Wednesday, Aug. 20 from 11 a.m. to 2 p.m. at the Student Union third floor rotunda. The Encounter is a part-time job and internship fair for students who have completed at least 30 credit hours and are in good academic standing.
Newsroom
Office of Communications Powell Hall West, Suite 1120
Mailing Address
1500 N. Patterson St.
Valdosta, GA 31698
General VSU Information
Office of Communications