VSU Fishing Club Members to Compete in Bassmaster National Championship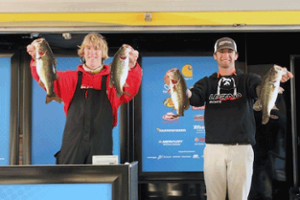 Landon Tucker and Taylor Minick
VALDOSTA –Taylor Minick and Landon Tucker will represent the Valdosta State University Bass Fishing Club at the 2014 Carhartt Bassmaster College Series National Championship at the Chatuge Reservoir in Young Harris, Ga. July 31 to Aug. 2.
The duo will compete among 84 teams from colleges and universities across the country. The contenders have three practice days at the lake before the competition begins Thursday.
"The object is to catch a fish a day and to catch the most weight for five fish," said Tucker. "We have gone out to the lake before to look around and get a feel for it. The practice days help us better understand how to find the biggest fish we can find."
Tucker and Minick qualified for the national championship during a January qualifying tournament at Lake Okeechobee, where they finished 11th – placing them in the top 15 of their region.
"We beat out teams like Auburn, which is a powerhouse in fishing, so we are really proud," said Tucker. "We feel really good about this championship. This is what we love to do so we are really excited about it."
A freshman music education major, Tucker said he has been fishing since he could hold a rod.
"My dad does top-level bass fishing, so I got thrown into it at an early age," Tucker said.
Minick is a sophomore biology major. While this is his first college tournament, he has been fishing and competing in fishing tournaments for several years.
Newsroom
Office of Communications Powell Hall West, Suite 1120
Mailing Address
1500 N. Patterson St.
Valdosta, GA 31698
General VSU Information
Office of Communications