July 14, 2014
14-231
Jessica Pope
Communications and Media Relations Coordinator
Fellowship Allows VSU's Ebony Iheanacho To Realize Doctoral Dreams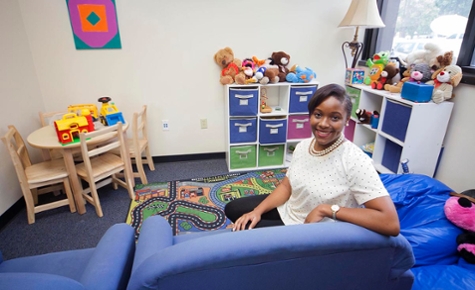 Ebony Iheanacho, pictured in the children's waiting area at the Valdosta State University-based FamilyWorks.
VALDOSTA — The American Association for Marriage and Family Therapy (AAMFT) has named Valdosta State University's Ebony C. Iheanacho a recipient of its Minority Fellowship Program award. The 24-year-old from Baker, La., a small town located a few miles outside of Baton Rouge, captured the coveted honor with her unwavering commitment to serving the underserved, including people with disabilities, people from certain ethnic minority communities, and people who identify themselves as lesbian, gay, bisexual, transgender, or questioning.
When Iheanacho learned that she had won the award, she said, "I screamed for like three minutes straight." Then she grabbed her phone and began calling and texting friends and family to share the good news.
The AAMFT Minority Fellowship Program's mission is to increase the availability of highly talented, culturally competent doctoral-level researchers, practitioners, and teachers dedicated to assisting ethnic minority communities, as well as underserved populations. It does this by providing financial support and professional guidance to graduate students pursuing doctoral degrees in marriage and family therapy.
As an AAMFT Doctoral Fellowship (DF) participant, Iheanacho will receive a stipend for a maximum of three years to help cover the cost of doctoral program attendance. Funds are provided by a grant from the Substance Abuse and Mental Health Services Administration, and the average funding level for the DF is greater than $20,000 per year, per fellow. She will also have access to a number of training opportunities and enrichment experiences.  
"I was facing having to borrow thousands of dollars in student loans," she said, "and I was already starting to worry about how I was going to pay all that back. I feel like a weight has been lifted off me. I am so excited to be in a position to be able to go to school and just learn."
"This award will pay for three years of my doctoral program and provide a stipend for living expenses," she continued. "Plus, it will pair me with a mentor — someone in the field of marriage and family therapy who can support and encourage me. That makes me even more appreciative of the award."
Iheanacho will attend Florida State University in the fall, following the completion of her Master of Science in marriage and family therapy degree at VSU in early August.
Iheanacho discovered the field of marriage and family therapy as an undergraduate student at Louisiana State University in Baton Rouge. She said one of her professors was in the process of earning her doctorate and often talked about her experiences and plans for the future.
After graduating with a Bachelor of Science in child and family studies and a double minor in business administration and sociology in 2011, Iheanacho was burned out and decided to take a year off to earn some money. She worked odd jobs, eventually landing a position as assistant manager at her hometown Walmart. However, it did not take long before she began desiring more than a paycheck.
Iheanacho wanted a true career, something that would allow her to make a positive difference in the lives of others. She recalled conversations she had enjoyed with a professor — the one pursuing the doctorate in marriage and family therapy — at Louisiana State University and began conducting research into the field. She visited with and talked to other professors at her alma mater.
"They told me that if I was interested in studying marriage and family therapy that I had to look at Valdosta State University," she noted.
"I had never heard of Valdosta, Ga., before that moment," she added.
After talking to various faculty members from the VSU Department of Marriage and Family Therapy, Iheanacho decided to apply.
"They were so welcoming and so supportive of the whole application and relocation process," she said. "I thought, 'This might be a good decision for me. Valdosta State could be my home away from home.' I prayed about it a lot."
Iheanacho arrived on the VSU campus in August 2012, a few days after the death of her father. It was her first time away from home on her own; she was nervous, knew no one, and worried about leaving her mother alone during such a difficult time.
It was also her first time living apart from her twin sister, Ivory, who was studying industrial hygiene at the University of South Florida. 
"My mother kept reminding me that my father valued education and would want me to do this," she said.
Looking back, she added, "I made a good decision. Coming to VSU was meant to be."
Iheanacho said that she is both nervous and excited to be moving to Tallahassee and continuing her education at Florida State University. She said that VSU provided her a very strong foundation as a future marriage and family therapist with its cutting-edge, unique combination of didactic coursework and supervised clinical practice at the campus-based FamilyWorks, a student-run clinic that helps community clients of all ages find solutions for problems they may be experiencing. Her ultimate dream is to work in a setting much like VSU's FamilyWorks, where she can inspire students and join them on their journey to self-discovery, while still practicing marriage and family therapy. 
Dr. Kate Warner, professor and head of the VSU Department of Marriage and Family Therapy, said, "I am so proud of Ebony. I know this achievement is the first of many, and I can't wait to see where her doctoral studies will take her. She is the kind of student you want to keep your eye on because you know she is going to go to wonderful places in her career."
Iheanacho graduated from Baker High School in 2007 and is the daughter of Mitchell Iheanacho (deceased) and Felicia Amuneke Iheanacho, immigrants who moved to the United States from Nigeria.  
On the Web:
http://www.valdosta.edu/colleges/education/marriage-family-therapy/
http://www.aamft.org/iMIS15/AAMFT/
About FamilyWorks
FamilyWorks is a Valdosta State University-based clinic operated by the Department of Marriage and Family Therapy within the James L. and Dorothy H. Dewar College of Education and Human Services. Clinic staff members help clients of all ages, from children to senior citizens, find solutions to problems they may be experiencing.
According to information provided by the Department of Marriage and Family Therapy, services are offered "to all people who seek them, regardless of age, gender, race, political or religious affiliation, sexual orientation, marital status, education, economic status, disability, or ethnic background."
Although Marriage and Family Therapy faculty members serve in a supervisory role and see a few clients, FamilyWorks is a student-run clinic. First-year graduate students handle the intake process, including scheduling the client's first appointment, gathering relevant background and contact information, documenting what prompted the client to seek therapy, and matching the client with a therapist. Advanced standing graduate students serve as the therapists.
Basically a large group practice, clients can be seen by individual therapists, a pair of therapists, or a faculty- or student-run consultation team. FamilyWorks deals with many different kinds of problems, from anger management and anxiety to divorce and depression to sexual issues and substance abuse to domestic violence, grief and loss, child behavior issues, and more. The therapist's goal is to help the client make the changes he or she wants to make, taking into account every aspect of the client's life and focusing on the client's natural resources.
FamilyWorks is open seven days a week, year-round. The majority of services are provided between the hours of 9 a.m. and 10 p.m. However, if therapists wish to schedule sessions outside of those hours, based on the needs of their clients, they can do so.
Because FamilyWorks is a not-for-profit clinic seeking to provide low-cost therapy services to everyone and train advanced level graduate students, fees for sessions are based on a sliding scale and can be totally free of charge, depending on family size and income. However, no one will be denied services based on their inability to pay.
Clients come from as far away as Nashville, Cairo, and Jennings, Fla., for therapy services. The student therapists also serve the community outside FamilyWorks in such organizations as Hospice of South Georgia, the Lowndes County Partnership for Health, the Migrant Farmworkers Clinic, the Georgia Department of Juvenile Justice, and others.
FamilyWorks is located at 903 N. Patterson St. in the one-story annex connected to the Continuing Education building.
Call (229) 219-1281 to schedule an appointment with a therapist. Services are confidential to the fullest extent of the law, and all clinic staff members adhere to the highest ethical and professional standards in their relationship with clients.
Newsroom
Office of Communications Powell Hall West, Suite 1120
Mailing Address
1500 N. Patterson St.
Valdosta, GA 31698
General VSU Information
Office of Communications