July 29, 2014
14-236
Jessica Pope
Communications and Media Relations Coordinator
Abria Bonner Uses Social Work Degree to Change Lives in NY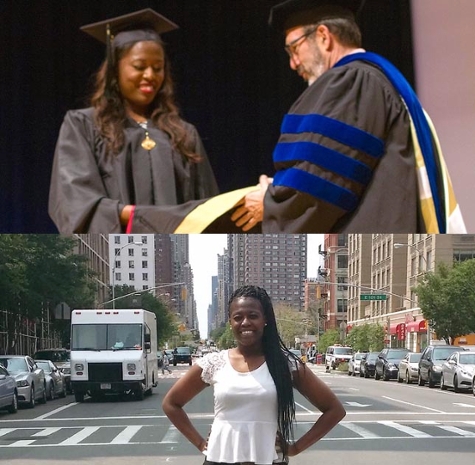 Top: Pictured is Abria J. Bonner at the Department of Social Work hooding ceremony with Dr. Michael Sanger. Bottom: Pictured is Abria J. Bonner in New York.
VALDOSTA — Two days after graduating from Valdosta State University, 24-year-old Abria J. Bonner boarded an airplane and flew to New York for an interview with The Doe Fund. She was offered a job with the organization the very next day.
"The following Monday I began working in Harlem," she shared, describing the life-changing moment as "unbelievable."
The Doe Fund, Bonner explained, is a nonprofit organization that seeks to break the cycle of homelessness, addiction, and recidivism. She works with the organization's Scatter Site Return Housing Program as a clinical case manager and is part of a team that helps former chronically homeless individuals who also have substance abuse and/or mental health disorders.
"Our program," continued the oldest child of Aubrey Bonner of Sylvania and Jamie Cusack of Statesboro, "strives to aid clients by mainstreaming them back into their communities through supportive individual and group counseling."
Bonner serves a caseload of 21 clients. In addition to providing each one with much-needed counseling services, she helps them secure funds to afford rent and utilities, access and maintain any benefits they may qualify for, and also learn approaches to managing their substance abuse or mental health issues. Her goal is always focused on helping them to live sober and independent lives. 
"Right now," she added, "I am … developing a curriculum for a psychoeducational group on developing healthy coping skills. I am super excited."   
Bonner, who completed a Master of Social Work at VSU in May 2014, discovered The Doe Fund during the final semester of her academic program through an online job search. Her first interview was in March 2014, when she flew to New York for spring break. Her second and final interview was two days after graduation.
"VSU has prepared me for this phase in my life through comprehensive learning in a community filled with opportunities," she said. "I am a proud graduate … and I am blessed to have met so many wonderful people who have supported me. Most universities offer either a sense of culture or prestige. At VSU you get both! There were many resources that helped me become the professional that I am today. I still keep in contact with many of my cohorts, supervisors, and professors."
"I had the best professors in the world," she continued. "There is no greater Master of Social Work program in the state of Georgia. The professors who developed the program, Dr. Rich Vodde and Dr. Marty Giddings, still teach full time. … It is a true testament of how dedicated they are to changing lives, and each professor I had really had a profound impact on my life." 
Bonner was born in New York, the birthplace of her mother, and raised in a small town in South Georgia, the birthplace of her father. After two years of both learning and living in Valdosta, she now calls Bronx, New York City's northernmost borough, home.  
"Living in New York has been a dream of mine for the past year," she shared. "Every night I would visualize myself where I am now.
"I love the novelty of not knowing what will happen, as the opportunities are greater than I could even imagine. … New York is a big melting pot of culture, music, passion and possibilities. I have discovered that the best food is in the little Halal food trucks or small, prototypical hole-in-the-wall restaurants.
"When I am not enjoying the delicious cuisine, I enjoy spending time with my family and friends at festivals, parks, block parties, and free concerts offered throughout the boroughs. There is always something to do, and I look forward to exploring as I become more familiar with the city."
Bonner earned her undergraduate degree at the University of Georgia, graduating in 2012 with a Bachelor of Science in psychology. She noted that her initial plan was to pursue a career as either a school psychologist or school counselor.
However, a bit of small talk with a random stranger changed all that, setting her on a path of self-discovery.
"In my very last semester, a social work grad student at UGA persuaded me to obtain a degree in social work over a five-minute conversation at a bus stop," she said. "[It was the] best conversation I've ever had.
"After researching and speaking with my advisor and mentors, I began opening up to the idea of joining the social work profession. The values and goals of social work coincided with my personal values, as I have always been involved in philanthropy-related organizations and extracurricular activities.
"It was a great leap of faith because I knew very little about what it meant to be a social worker."
She entered VSU the following fall, pursuing her degree through the Department of Social Work's traditional, full-time, face-to-face, on-campus program, as opposed to its web-based program. 
"Coming from a small town," Bonner explained, "I desired a more intimate learning environment. After researching social work programs all over Georgia, it was very clear to me that VSU's generalist practice program would best satisfy my needs, as I was unsure about what I wanted to do with my degree. The program's curriculum was also a bonus; it was important for me to have two full years of field experience."
As a student at VSU, Bonner was active on campus and in the surrounding cities and towns. She served as an intern and volunteer with the local Boys and Girls Club and as a volunteer at The Haven, where she organized and compiled clothing and home items for victims of domestic violence and sexual assault receiving shelter and other services from the organization, conducted psychosocial assessments on incoming children and teens, and facilitated art therapy groups for the children of domestic violence.
An advocate for human rights and a strong supporter of diversity and awareness of such on college campuses, Bonner was invited to serve on the university's 50 Years of Integration Committee, and she was charged with helping to design, develop, and implement two programs fostering both community collaboration and multicultural education. The events — a lecture led by Dr. Thomas Aiello of VSU's Department of History titled "Integration and Colonial Dependency: Black and White Arts Contact in The Harlem Renaissance and Beyond" and a special community worship service at the city's oldest African-American church featuring Valdosta City Councilman and Mayor Pro Tem Alvin Payton Jr., a 1995 VSU alumnus with firsthand experience of what integration looked like in Valdosta — were deemed a success.  
Bonner's work resulted in her being honored with VSU's 2014 Department of Social Work Community Leadership Award. She was also recognized by the South Georgia Unit of the National Association of Social Workers-Georgia Chapter (NASW-GA) with its coveted 2014 Student Social Worker of the Year Award.
"I was shocked," shared the recipient of a NASW-GA Conference Scholarship, "when I discovered I had been nominated for such a prestigious award. I still cannot believe how much support I received from my professors and cohorts. It all started with me dissatisfied with a problem that is, unfortunately, all too common in many colleges and schools. Many people have great ideas every day, but they often sit idle due to lack of action.
"It has taught me so much about what I want to do with my career.
"It has really inspired me to go further and make a real impact in the world. I am still in shock."
Taking a moment to ponder her future, Bonner said she would like to someday work on building communities and influencing policy, transitioning from clinical to macro social work. She plans to further her education at New York University's School of Law, pursuing a Juris Doctor.
"This is something that will help me better serve whichever population I would like to help," she shared. "In order to be effective at what I do, I have to 'know' what I am doing, so this degree will be essential in my community and environmental activism. If I had the money now, I would start school today. I will be saving my money so that I can achieve this goal."
Bonner has plenty to keep her busy in the meantime. She is currently considering starting her own volunteer service and wants to form a support group that targets minority girls of college age who are struggling to find their place and purpose — their unique identity — in life. She wants to do what it takes to see positive growth in the community she now lives in. 
Bonner is the oldest of seven children, two boys and five girls. She graduated from Screven County High School in Sylvania in 2008. She has a goddaughter named Ava due in October.
On the Web:
http://www.valdosta.edu/colleges/education/social-work/
Newsroom
Office of Communications Powell Hall West, Suite 1120
Mailing Address
1500 N. Patterson St.
Valdosta, GA 31698
General VSU Information
Office of Communications