June 11, 2014
14-206
Jessica Pope
Communications and Media Relations Coordinator
PSST! Offers Pay What You Can Days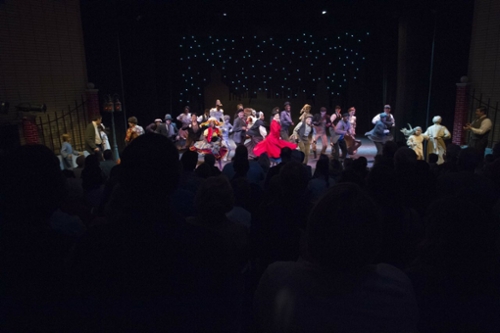 Paul Leavy / Valdosta State University
Scene from Peach State Summer Theatre's production of "Mary Poppins."
VALDOSTA — Peach State Summer Theatre Pay What You Can performances are set for June 15, June 21, and July 10.
Duke Guthrie, PSST! managing director, said Wednesday that there are very few Pay What You Can tickets available for the 3 p.m. Sunday, June 15, performance of "Mary Poppins." He said that ticket availability is a little better for the 7:30 p.m. Saturday, June 21, performance of "Smokey Joe's Café: The Songs of Leiber and Stoller" and the 7:30 p.m. Thursday, July 10, performance of "42nd Street."
Fans are urged to purchase their tickets for these special events as soon as possible. Pay What You Can tickets will sell out quickly. 
"This is our fifth season of Pay What You Can," Guthrie said. "We began this as a way of making our performances available to folks who would not otherwise be able to attend. It is a popular offering at a number of not-for-profit theatres in the United States. The response has been amazing. It is an opportunity that folks look for specifically."
Pay What You Can works by allowing musical theatre fans to make a contribution of their choice to see one or all of the designated performances. Tickets can and should be picked up in advance from the PSST! box office, which is located on the first floor of the Valdosta State University Fine Arts Building at the intersection of Brookwood Drive and Oak Street and open from 10 a.m. to 5 p.m. Tuesday through Saturday and from 10 a.m. to 1 p.m. on Sunday. Individuals purchasing more than four tickets for a single performance are required to pay a minimum of $7 per ticket. Only cash and checks are accepted. Phone reservations are not allowed for these performances.
Regular ticket prices for PSST! shows are $25 for adults and $20 for children, senior citizens, and students, plus sales tax and a $1.50 processing fee.
Peach State Summer Theatre, or PSST!, is Valdosta's premiere professional summer stock theatre. Each summer, dozens of singers, dancers, technicians, managers, and creators gather on the Valdosta State University campus for 10 weeks, during which time they rehearse, build, and present three musicals in rotating repertory.
The 2014 Peach State Summer Theatre season marks the 25th year of VSU producing professional theatre for the city of Valdosta, the state of Georgia, and beyond. From 1990 to 2004, VSU produced the Jekyll Island Musical Theatre Festival. In 2005, the summer theatre program was relocated to the university and renamed PSST!
The Georgia Legislature designated Valdosta State's summer stock theatre program the Official Musical Theatre of the State of Georgia.
VSU's Jacque Wheeler serves as the artistic director of Peach State Summer Theatre.
The musical theatre season kicked off on June 6 with the opening of "Mary Poppins." "Smokey Joe's Café: The Songs of Leiber and Stoller" will open on Friday, June 20, followed by the opening of "42nd Street" on Friday, June 27. All three shows will be presented in rotating repertory through the weekend of July 26-27 on the Sawyer Theatre stage in VSU's Fine Arts Building.
The Peach State Summer Theatre box office can be reached by calling (229) 259-7770.
Visit http://www.valdosta.edu/colleges/arts/communication-arts/peach-state-summer-theatre/ to learn more.
Also on the Web:
http://www.valdosta.edu/about/news/releases/2014/05/peach-state-summer-theatre-box-office-is-open-for-business---.php
http://www.valdosta.edu/about/news/releases/2014/06/psst-gets-supercalifragilisticexpialidocious-on-june-6.php
Newsroom
Office of Communications Powell Hall West, Suite 1120
Mailing Address
1500 N. Patterson St.
Valdosta, GA 31698
General VSU Information
Office of Communications