May 8, 2014
14-170
Erica Even, Student Assistant
VSU Journalism Student Explores History of Minor League Baseball in Valdosta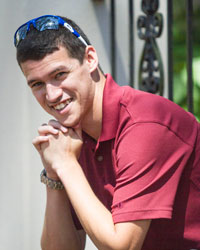 Alejandro "Alex" Tostado, a senior journalism student
VALDOSTA – Alejandro "Alex" Tostado, a senior journalism student won the Valdosta State University Jim Murray Sports Writing Contest and will go on to compete at the national level against students from 30 other schools. 
The Jim Murray Memorial Foundation (JMMF) awards five $5,000 scholarships annually through the Murray Scholar Scholarship Program.  The foundation holds a nationwide essay competition for print journalism students with an emphasis on sports journalism. 
"Winning at VSU is an amazing opportunity and I'm very excited," said Tostado. "I'm hoping to win at the national level, but also looking forward to some feedback to better myself as a sports writer." 
Tostado wrote the winning article on the 1939 to 1958 Valdosta minor league baseball scene. The article features Deane Mink, who played minor league baseball in 1952 and Lynn Thomas, who remembers watching the games throughout his childhood and wrote the book "From Valdosta to the Major Leagues." 
"I just tried my best to get a feel for the culture of Valdosta and baseball for the time," said Tostado of his article. 
Tostado, who is from Frederick, Colo., has been interested in sports writing since high school. 
When asked why he came to Valdosta State, Tostado said it was because Valdosta was named Title Town, an honor bestowed on the community by ESPN in 2008. 
"I was a junior in high school when I heard about Valdosta being named Title Town and thought that is where I need to go to be a sports writer," said Tostado, who is now sports editor for The Spectator, the university's student newspaper. 
Tostado's article has been sent to a team of professional sports writers who will judge the entries and decide the winners of the scholarships. Winners will be announced in August 2014 and have the opportunity for a trip to Los Angeles, Calif. for the awards reception. 
For more information, contact Ted Geltner at
tageltner@valdosta.edu
or visit
www.jimmurrayfoundation.org
.  
Newsroom
Office of Communications Powell Hall West, Suite 1120
Mailing Address
1500 N. Patterson St.
Valdosta, GA 31698
General VSU Information
Office of Communications