VSU Honors Top Students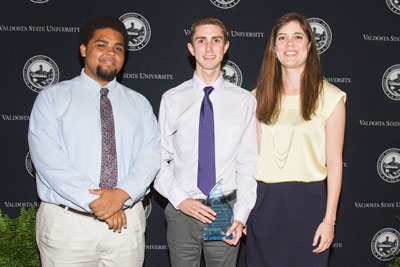 Left to Right: Curtis Thornton, recipient of the Mac Award; Aaron Calvin, recipient of the Annie Powe Hopper Award; and Danielle Jordan, recipient of the Marga Award
VALDOSTA – Valdosta State University honored its top students for outstanding work during the annual Academic Honors and Awards Dinner Thursday, May 1.
Aaron Calvin, a chemistry major with a mathematics minor, received the Annie Powe Hopper Award, the university's most prestigious academic award presented to an undergraduate.
A Hahira native, Calvin has received many honors during his time at Valdosta State, including Dean's List, Undergraduate Award in Analytical Chemistry, Julia Wisenbaker Sumerford Scholarship, Southwest Georgia Section of the American Chemical Society Award, Who's Who Among Students in American Universities and Colleges, and the Outstanding Chemistry Senior Award. He has also participated in activities such as the Earth Day celebration, Science Saturdays, and International Year of Chemistry celebrations, and is a volunteer for Relay for Life and Habitat for Humanity.
Calvin's resume includes time as a tutor in the Advancement Via Individual Determination (AVID) program, research assistant, teaching assistant for quantitative analysis, summer undergraduate research assistant at Georgia Institute of Technology and summer undergraduate research intern at the Argonne National Laboratory.
The Sigma Alpha Chi Honor Society presented the Marga and Mac awards to the outstanding woman and man in the senior class. Recipients must have demonstrated academic superiority, a 3.0 or better GPA, and participation in a minimum of three campus organizations.
This year's Marga Award was presented to Danielle Jordan, of Valdosta, who is a member of Students Against Violating the Environment (S.A.V.E.), Student Government Association, Anthropology Club, Give and Go Campus Recycling Program, Science Saturdays committee and Up 'Til Dawn. During her time at VSU, Jordan has studied abroad in Belize, organized local food and clothing drives and been involved with the Hildegard's English School Volunteer Day, Tiger Stripes Animal Sanctuary Volunteer Day, Wiregrass Activists for Clean Energy and Spectrabusters.
Jordan is the recipient of several honors and awards, including the American Association of University Women Award, Who's Who in American Colleges and Universities, Hugh C. Bailey Family Scholarship, Alpha Lambda Delta Honor Society, Alpha Kappa Delta Honor Society, Pi Gamma Mu Honor Societies, Dean's List, and Department of Sociology, Anthropology, and Criminal Justice Anthropology Student of the Year.
The Mac Award was presented to Curtis Thornton, of Valdosta. Thornton is a member of Phi Mu Alpha Sinfonia, the marching band, the wind ensemble, the tuba euphonium studio, brass quintet and the tuba euphonium quartet. He was a finalist in the Valdosta Symphony Orchestra's concerto competition and winner of the Bill Walker Band Award. He is also a member of the Georgia All-College Band.
Additional students honored for their academic achievements include:
Tess Buis: Outstanding College of the Arts Award
Adrienne Fry: The Bartram Award for Intellectual Exploration
Tanya Ard: Outstanding Student in the Arts and Sciences
Felina Bordeaux Duncan: Outstanding Langdale College of Business Administration Senior Award
Maya Austin: College of Education and Human Services Highest Academic Achievement Award
Leah May: Outstanding Senior Nursing Student Award
Courtney Barron: Master of Library & Information Science George Gaumond Award
Cadet Reece Walker: Most Outstanding AS300 Cadet, VSU Air Force ROTC Detachment
Ryan Winkel: Outstanding Male Student Academic Athlete of the Year
Fran Johnson and Courtney Albritton: Outstanding Female Student Academic Athletes of the Year
David C. Ellinburg: University System of Georgia Academic Recognition Day Award
Laura Schmidt: Alpha Lambda Delta Marie Leonard Book Award
Rachel Bradley: Clare Philips Martin Scholarship
Adrienne Fry: American Association of University Women Award
Cole Singletary: Georgia Legislative Academic Award
Newsroom
Office of Communications Powell Hall West, Suite 1120
Mailing Address
1500 N. Patterson St.
Valdosta, GA 31698
General VSU Information
Office of Communications