University Receives $1.9 Million to Improve Student Support Services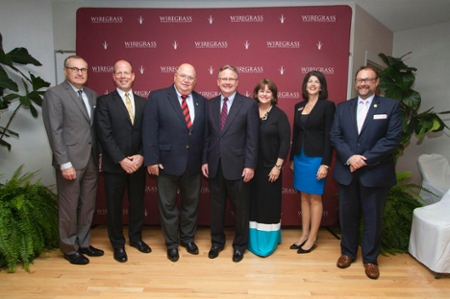 State Senator Tim Golden, R-Valdosta, and Lt. Gov. Casey Cagle reviewed Georgia's 2015 state budget, which will benefit several South Georgia projects, during a press conference Wednesday at Wiregrass Georgia Technical College. Valdosta State University will receive $1.9 million from the budget to renovate the north wing of the University Center, a project that will help promote more efficient student services. Pictured, from left to right, are Cagle; Andrew Flemer, South Georgia Medical Center chief operating officer; State Rep. Ellis Black, R-Valdosta; Golden; State Rep. Amy Carter, R-Valdosta; Dr. Tina K. Anderson, Wiregrass Georgia Technical College president; and Dr. William J. McKinney, Valdosta State University president.
VALDOSTA – Valdosta State University will receive $1.9 million from the Georgia General Assembly FY2015 budget to renovate the University Center, a project that will help promote more efficient student services.
"We would like to thank Gov. Deal for approving the FY2015 budget, which includes funding for renovations to the University Center," said VSU President William J. McKinney. "The renovation will allow VSU to build a new Student Success Center, which is an important investment in our Complete College Georgia plan. We would also like to thank Representatives Ellis Black, Amy Carter, Dexter Sharper, and Jason Shaw. Finally, we would like to thank Senator Tim Golden, who championed this important investment in a more educated Georgia from the very beginning."
The redesigned center will create a centralized area for student services, including the Registrar, Financial Aid, Centralized Advising, Student Success Center, Career Opportunities, and the Bursary.
Locating the student-centered offices within one location allows for enhanced quality of service and a greater awareness of the student support services the university provides.
"All of these services will benefit first-year students, many of whom are first-generation college students and have never had a family member set foot on a college campus. We are putting those services under one roof," said McKinney. "One of the things I am adamant about is the only hurdles we should place in front of our students are the academic challenges placed by our faculty. When it comes to everything else we need to make it seamless; we need to make it simple."
The goal of increasing enrollment and retention through improving service to students is part of Valdosta State's 2013-2019 Strategic Plan. The relocation of the services directly addresses these goals and provides a more convenient, efficient, and seamless experience for students, especially first-year students.
Moving Career Opportunities, which is currently housed in Powell Hall, closer to Centralized Advising within the University Center is just one partnership that will be enhanced as part of the new student support center.
"As we are advising first-year students many of them need assistance with choosing a career path," said Alicia Roberson, director of Centralized Advising. "We can tell them the courses they need, but it is the experts in Career Opportunities that can help them select the right career path."
Helping students choose the correct career path involves conversations between academic interests and career interests simultaneously.
"Career Opportunities cannot be the last stop," said Dr. Gerald Williams, director of Career Opportunities. "We want to have a conversation on the front end with students. We work with students, especially first-year students, to gain those experiential learning skills, including shadowing and service learning. Having the opportunity to actual go into the work environment is important."
Assisting students in finding a career path is an important part of the mission of Career Opportunities.
"We don't want students to get to their internship in their junior and senior year and realize they don't want this career; it is better to discover this earlier," said Williams. "We want to expose students to career opportunities that they may not even know exists."
Newsroom
Office of Communications Powell Hall West, Suite 1120
Mailing Address
1500 N. Patterson St.
Valdosta, GA 31698
General VSU Information
Office of Communications