Valdosta State University Honors the Converse Family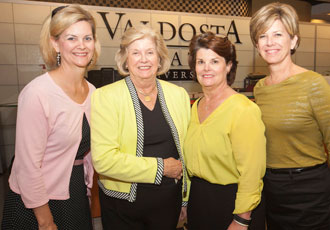 Marie Converse Smith, second from left, the granddaughter of W.L. Converse, is joined by her daughters Nancy Price Rathmann, Lang Smith Smotherman, and Jolyn Converse Smith. Smith's daughter Melissa Smith Kalish was unable to attend the ceremony.
VALDOSTA--In 2010, as part of Valdosta State University's strategic plan to move more academic programs to the main campus, the north wing of Converse Hall was demolished. In its place a 33,000-square-foot building was built to house academic and administrative space for the Department of Psychology and Counseling, the Graduate School, and Sponsored Programs and Research Administration. At the time construction was completed in 2011, the building was named the Psychology Building. 
The original Converse Hall was built in 1913 and in 1923 named in honor of W.L. Converse, a local businessman and founding member of the board of trustees for South Georgia State Normal College, which is now Valdosta State University. 
During a special presentation on May 1, Valdosta State University President William J. McKinney rededicated the building and officially returned the name Converse Hall. 
Converse was extremely interested in education, having served on the local public school board for 18 years. He was later elected to the Georgia House of Representatives and Senate. It was his leadership and influence within state government that helped secure the additional funds to establish a college in South Georgia. 
"The facility provides for excellence in education and academic quality in research that we should all expect from Valdosta State. However, something was missing, something was definitely missing, and that of course was the Converse name," McKinney said. "You hear me talk a lot about our vision to move our university into the 21
st
century. You hear a lot about being innovative and creative as we move into the future. Please do not misconstrue that desire as wanting to move away from out proud history." 
Representing the Converse family, Marie Converse Smith, granddaughter of W.L. Converse, expressed her gratitude to Valdosta State University for honoring her grandfather and his contributions to the institution. 
Smith said that her brother, George Lang Converse Jr., who lives in Cincinnati, Ohio, was unable to attend the rededication ceremony; however, he had the opportunity to tour the campus in April and see the building that now bears his grandfather's name. 
"My brother was extremely impressed with the campus and was amazed at how much the university has grown over the years," said Smith. "He was able to see the name on the building and was very happy." 
This is not the first time Smith has witnessed the Converse name being placed on the building. She recalled when the original Converse Hall was destroyed by fire and rebuilt in 1978. 
"My husband, Joe Glenn, and I were coming to Valdosta from our home in Hahira and saw flames coming from the campus," said Smith, who attended Valdosta State College. "As we got closer we realized that Converse Hall was burning. I stood and watched the building completely burn. I just stood there and cried." 
It was an emotional experience for Smith, because the building provides special memories of her grandfather. 
"I never had the opportunity to meet my grandfather, so my memories are tied to how he loved education and he loved Valdosta," Smith said with pride. "We were here when the building was rebuilt after the fire and continued having the Converse name." 
McKinney said restoring the Converse name to the building was an easy decision and important to the university's history. 
"To the Converse family, all of us here at Valdosta State University are grateful for the vision and understanding that South Georgia needed an institution of higher learning," McKinney said. "The Converse family has transformed the lives of thousands of alumni who have graduated from this institution from the beginning as South Georgia State Normal College, to Georgia State Womans College, Valdosta State College, and now Valdosta State University." 
The Converse legacy continues to be a part of Valdosta State's tradition. Smith's daughter, Lang Smith Smotherman, graduated in 1986 with a degree in physical education and sports medicine, and Smotherman's son, Thomas Briggs Smotherman, graduated in May 2013 with a degree in biology. 
"What a special occasion for my family and me," said Smith "It is so exciting to know that the Converse name is back on the building. We have something to be proud of in South Georgia. This is a beautiful university."
 

W.L. Converse Family

:

W.L. Converse was married to Eula Lang and they had three children: William L. Converse Jr., Eulalie Converse, and George Lang Converse.
William L. Converse Jr.
Eulalie Converse Harris
Richard Harris
Eulalie Harris Pickett, had two daughters, and one great-granddaughter Eulalie Pickett Wison, who lives in Cedartown, Ga.
George Lang Converse:
Georgia Lang Converse, Jr.

Richard Lang Converse
Elizabeth Converse Erli



Marie Converse Smith

Melissa Smith Kalish
Lang Smith Smotherman
Joyn Converse Smith
Nancy Price Rathmann
Newsroom
Office of Communications Powell Hall West, Suite 1120
Mailing Address
1500 N. Patterson St.
Valdosta, GA 31698
General VSU Information
Office of Communications