Three VSU Graduates Selected as Traveling Leadership Consultants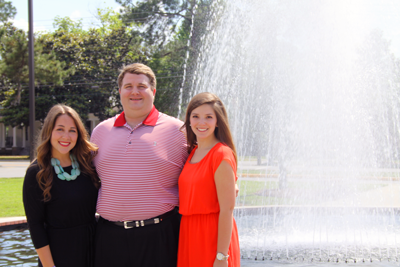 Pictured left to right: Ainsley Robinson, Tullis Beasley and Ali McDonald
VALDOSTA – Three Valdosta State University graduates have been selected to become traveling leadership consultants with their national Greek organizations.
"One of the most important aspects of the Greek experience on any college campus is preparing our students to be successful leaders in their fields upon graduation," said Erin Sylvester, assistant director for Greek Life at VSU. "Having three students selected to serve on a national level from VSU is a clear sign that we are providing a worthy and developmental experience in our undergraduate fraternities and sororities."
Leadership consultants travel the country visiting various chapters of their sororities or fraternities. They conduct trainings and hold workshops to ensure the chapters operate according to national guidelines and members receive the best possible undergraduate experience. Leadership consultant positions are yearlong.
"The choice to serve your national fraternity or sorority is a great way to give back to organizations that have been instrumental in developing you into the man or woman you are today," said Sylvester. "As Greek men and women, we take an oath to continue to advance the fraternal experience for future generations. The fact that these students are choosing to serve their national chapters and campuses across the country is an honor."
For Ainsley Robinson, member of Zeta Tau Alpha Sorority and spring 2014 graduate of the Speech Communications program at VSU, the experience will allow her to "gain a deeper understanding of the nationwide sisterhood and gain friendships with other sisters from different states."
"The leadership consultants will hit the road in late July to assist chapters in recruitment for three months," said Robinson. "We will also assist in officer transitions, extension projects and reinstatement of chapters that may have been removed from campus. My ultimate career goal is to be an event planner, so this will help me learn more about how to work with others and how to plan events like recruitments."
Robinson added that this position serves as her "second big girl job," as she has been working full time with VSU's Office of Event Services for the past six months.
Ali McDonald, of Alpha Sigma Alpha Sorority, will travel to Indiana on July 6 for consultant training. After six weeks, McDonald will begin her time as a consultant.
"After each visit, I will submit a report to the sorority's national office detailing chapter strengths and weaknesses," said McDonald. " I look forward to building my travel experience, professional experience and leadership skills through this position."
McDonald received a Bachelor of Science in biology on May 10. After completing her time as a traveling leadership consultant, she plans to apply for dental school.
Tullis Beasley will begin his position as associate director for chapter services with the Kappa Alpha Order during the summer also.
"The position calls for me to oversee roughly 35 undergraduate chapters in five states," said Beasley. "I will travel to each of these chapters at least once in the next year and conduct education programming in the areas of risk management, ritual and officer training. I will also assist other employees of the Kappa Alpha Order with province-level educational workshops and assist with other conferences and leadership institutes that are provided by the order."
Beasley received his Bachelor of Science in political science in December 2013. He plans to pursue a Master of Arts in teaching in secondary education and would ultimately like to teach high school history or American government, and coach football and golf. He has also expressed a desire to coach college football.
Newsroom
Office of Communications Powell Hall West, Suite 1120
Mailing Address
1500 N. Patterson St.
Valdosta, GA 31698
General VSU Information
Office of Communications