Susan McLemore: Passion for Teaching and Learning Drives Her to Earn Doctorate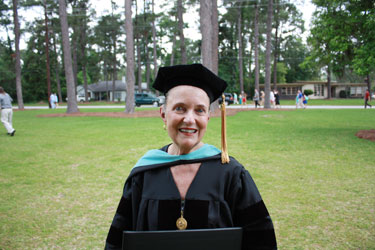 Dr. Susan McLemore
VALDOSTA – At the age of 20, Susan McLemore developed a love for teaching and learning that she has held on to for more than four decades. On May 10, the Jekyll Island resident, now 66 years old, walked across the stage of Valdosta State University's P.E. Complex to receive her doctorate in education.
"I never intended to be a teacher," said McLemore. "I accepted a Georgia State Teacher's Scholarship just to help pay my way through college." 
It was not until McLemore's student teaching experience that she developed a desire to teach.
"I did my student teaching in Atlanta, at Frederick Douglass High School, the last all-black school in Georgia," said McLemore. "Watching how kids learned so quickly and beautifully was enough to inspire anyone for a lifetime. I was hooked on teaching and could not think about doing anything else with my life."
McLemore earned her bachelor's degree from the University of Georgia and taught for seven years.
"In 1976, my husband and I decided that I would stop teaching so we could raise a family," said McLemore. "After raising children for 22 years, I decided to throw my hat back in the ring and applied for a teaching job in 1998, thinking it would take years for an actual opening."
To her surprise, McLemore was offered a position immediately.
"They needed me in English, rather than my area of certification, social sciences. After teaching for a year, I decided to not only become certified in English, but get a master's degree in English education through Armstrong Atlantic State University."
"As the years went by, it nagged me that I didn't have my doctorate," McLemore said. "I also wanted to see if my brain still worked, so I went online and saw there was a way I could take a hybrid course of study at Valdosta State University, part online and part face-to-face classes. It was perfect for me."
McLemore found her doctoral program convenient, yet engaging. She added that she developed great relationships with many students and professors while in the program.
"I was lucky to have outstanding professors like Dr. Verilette Hinkle and Dr. Rudo Tsemunhu," she said. "I admired Dr. Tsemunhu first as a professor and then as my dissertation chair.  She was an amazing mentor."
For the past 16 years, McLemore has enjoyed a teaching career at Glynn Academy in Brunswick, the sixth oldest public high school in the nation. She is currently teaching English, creative writing, SAT prep, and still holds certification in all the social sciences and gifted.
"I love teaching," she said. "I take great joy in it. It has been and always will be my passion."
Newsroom
Office of Communications Powell Hall West, Suite 1120
Mailing Address
1500 N. Patterson St.
Valdosta, GA 31698
General VSU Information
Office of Communications