Students Apply Principles of Green Technology to Artificial Reefs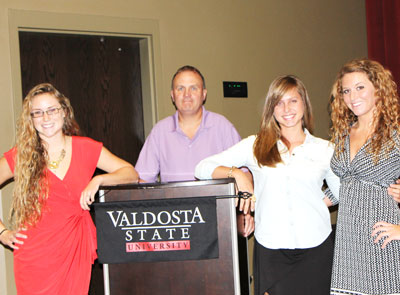 Left to right: Brittany Butler, Dr. Tom Manning, Tess Baker and Sydney Plummer
VALDOSTA – Biology and chemistry students at Valdosta State University have been working with Dr. Tom Manning, professor of chemistry, on an approach that applies the principles of green technology to artificial reefs. In February they filed a patent on their novel approach to artificial reefs that could positively impact ocean productivity.
Artificial reefs are man-made structures that are placed underwater to promote marine life. The National Oceanic and Atmospheric Administration currently allow reefs to be constructed of steel and concrete, which is costly and sometimes hazardous. For example, steel from ships and reefs contain chromium and nickel – both toxic metals that have been identified in lobster, fish and other marine life that is caught for consumption.
"The students created an artificial reef made of cellulose, which is the most abundant organic compound on Earth," said Manning. "The students then deployed the reef in the Florida Keys and monitored the marine ecosystem for seven months."
To prepare the reef, the students dried bamboo – a source of cellulose – in an oven and then soaked it in nutrients before allowing it to dry at room temperature.
"All of the materials that were used are things that are used in the ocean anyway and biodegrade over time," said Brittany Butler, biology major. "In September 2013 we put down a prototype and monitored it until the end of March 2014. "We were very surprised to find a lot of marine life. Once it was in the water, there were lots of things feeding on it, including baby octopi, crabs, Spanish lobsters, marine worms and shrimp. We also noticed that barnacle growth on oysters."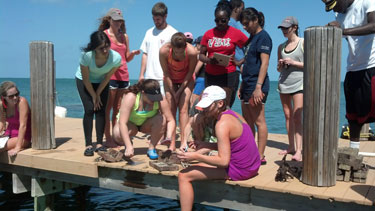 While the reef promoted quick growth, it also created a food source for the organisms and microorganisms. In some cellulose-based materials deployed in the Florida Keys it was reported that queen conch, Caribbean octopus, arrow crabs, variegated urchins, several species of sea cucumbers, and the fish also enjoy it.
"The damselfish seem to be especially fond of their new 'territory,'" said Manning. " In addition, sessile species such as algae and sponges are growing on the test materials that hang from docks."
Manning and the students have applied for a provisional patent, full utility patent and international patent for their green tech artificial reef over the past year.  The students gained valuable experience in learning about the importance of intellectual property in a global market.
"Not only does introducing this type reef go along with the U.S. Environmental Protection Agency's mission," said Butler. "Its long-term benefits include cost savings, ecotourism and more revenue for the area."
Butler added that this project, supported by the National Science Foundation, has given the students involved great patent application experience.
In addition to Butler, other students involved in the project include Aaron Calvin and Warren Lott, both spring 2014 graduates with a Bachelor of Science in chemistry; Kelsey Johnson, spring 2014 graduate with a Bachelor of Science in biology; Tess Baker, biology and chemistry major; Brandon Atwater, chemistry major; and Sydney Plummer, chemistry major.
Newsroom
Office of Communications Powell Hall West, Suite 1120
Mailing Address
1500 N. Patterson St.
Valdosta, GA 31698
General VSU Information
Office of Communications