Juliana Boehm: Excels in Academics and Athletics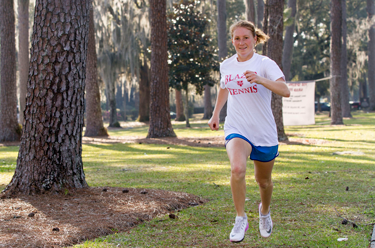 Juliana Boehm
Known to dominate on the tennis court and track, Juliana Boehm carries a spirit of determination and tenacity.
Born in Russia and raised in South Germany, the senior came the states in 2011 on a tennis scholarship to Valdosta State University.
"I wanted to come to the United States to play sports," said Boehm. "I had been talking to another school but was told about Valdosta State University."
Boehm's application was sent to Valdosta State's head tennis coach, John Hansen, who then offered her a scholarship to attend VSU.
The player's love for the game has made her an asset to the team for the past two seasons.
"Tennis has been great," she said. "It is always fun to travel with the team and play. Last year many of the players had some injuries, but I am happy that we got to make it to regionals."
An avid tennis player since age 7, Boehm served as part of tennis clubs prior to leaving Germany. In addition to playing the sport, she served as a tennis teacher and sparring partner. She credits her father, who coaches tennis, and Kim Clijsters, a retired Belgian professional tennis player, as strong influences.
In 2012, former cross country runner Marc Kaiser decided to informally recruit Boehm for the women's cross country team.
"It was very random," Boehm said. "He spotted me running one day and then approached me about joining the cross country team."
Kaiser's suggestion proved to be rewarding for Boehm. During her first season as a cross country team member in 2012, she was named one of the Gulf South Conference (GSC) Runners of the Week. Last season, she earned All-GSC honors at the GSC Championships, while the women's cross country team finished fifth overall.
"We had a good season," said Boehm. "Everyone has progressed and gotten better. "
Boehm added that the team had a smooth transition with the introduction of the team's new head coach, Clinton Bell.
"Of course we all miss Coach (Todd) Smoot. However, Coach Bell is really nice and is a great coach, so the transition has been good."
In addition to her athletic accomplishments, Boehm has managed to consistently excel academically. In 2013, she was among 10 Valdosta State student-athletes who were named to their respective sport's GSC All-Academic Team, with an overall grade point average of 3.47. Collectively, the women's cross country team was also recognized with the Team All-Academic honor, with a combined grade point average of 3.77 during the fall semester of 2012.
Boehm plans to graduate in the summer with a Bachelor of Science in exercise physiology.
"I would like to pursue a master's degree and I have been discussing the exercise physiology graduate program with my cross country coach."
Inspired by her father, who is a masseuse, Boehm has contemplated a career in physical therapy.
"I have always been interested in doing something that involved athletic rehabilitation," said Boehm. "However, I am now also considering a career in cardiac rehabilitation or sports science. I am still undecided but will have a better idea once I complete my internship."
Volleyball and basketball are among other sports that Boehm enjoys. She is a strong supporter of Valdosta State's basketball and baseball teams. She also likes to read.
While most of her immediate family is in Germany, her sister recently moved to London for school.
Newsroom
Office of Communications Powell Hall West, Suite 1120
Mailing Address
1500 N. Patterson St.
Valdosta, GA 31698
General VSU Information
Office of Communications