Greek Excellence Honored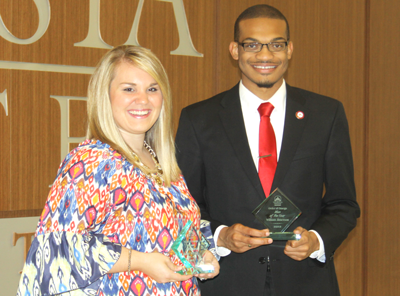 Jamie Mauldin and William Jimerson
VALDOSTA – Valdosta State University recognized excellence among Greek-letter organizations during its annual Greek Assembly Tuesday, April 29.
One of the highest awards presented during the assembly is the Order of Omega Man and Woman of the Year, which recognizes leaders within the Greek community.
"The Order of Omega Man and Woman of the Year awards are designed to recognize individuals who have demonstrated outstanding involvement and achievement within the Greek community, while maintaining a well-balanced life and showing the appropriate dedication to all areas of their student experience," said Erin Sylvester, assistant director for Greek Life.
William Jimerson, of the Mu Omicron Chapter of Alpha Phi Alpha Fraternity, Inc, was named Order of Omega Man of the Year for his contributions to his fraternity and the university.
"He has not only been involved in Greek Life, but he is an outstanding member of the VSU community," said Sylvester. "He is said to exemplify all of the characteristics we look for in the Greek community. He is dedicated to service, he is a role model, he excels academically, he is a campus leader, and he works diligently within his chapter to uphold the aims of his fraternity."
Jimerson is the immediate past president of VSU's Student Government Association and is also a member of Collegiate Men of VSU and VSU NAACP. He has worked as a resident assistant and has served his chapter as a recording secretary and webmaster. He is the recipient of the 2012 Male Rookie Resident Assistant of the Year Award, National Pan-Hellenic Council New Member of the Year Award, Media Arts Geniuses Humanitarian of the Year Award and the College Brother of the Year for Scholarship Award at the Georgia District Alpha Phi Alpha Convention.
Jamie Mauldin, of Phi Mu, was named Order of Omega Woman of the Year for exemplary work in her sorority and on campus.
"Jamie was able to serve the Greek community in multiple capacities throughout the last year," said Sylvester. "Last year she was also initiated in Order of Omega, which represents the top 3 percent of the Greek community, and was awarded a national scholarship through the organization."
Mauldin was her chapter's pledge class president in 2011 and College Panhellenic Council delegate in 2012. She has also served as College Panhellenic Council vice president of development and College Panhellenic Council president, and is now her chapter's president.
The following additional awards were presented:
Greek Week Winners
1st Place: Sigma Nu, Alpha Sigma Alpha and Delta Sigma Theta
2nd Place: Kappa Sigma, Kappa Delta and Phi Beta Sigma
3rd Place: (Tied) Kappa Alpha and Phi Mu, and Chi Omega, Phi Sigma Kappa and Alpha Phi Alpa
Intramurals 
Flag Football- Kappa Sigma and Zeta Tau Alpha
5v5 Basketball- Kappa Sigma and Alpha Delta Pi
Softball- Sigma Nu and Kappa Delta
New Member of the Year
College Panhellenic Council: Maggie McGlamry of Phi Mu
Interfraternity Council: Joe Lin of Sigma Alpha Epsilon
National Pan-Hellenic Council: Briana Tookes of Delta Sigma Theta
Outstanding Greek Achiever
Regan Taylor of Phi Mu
Outstanding Greek President
Kelsey Garner of Alpha Kappa Alpha
Advisor of the Year
Corrie Hunter-Marable, advisor of Alpha Kappa Alpha
Chapter of the Year
College Panhellenic Council: Zeta Tau Alpha
Interfraternity Council: Sigma Nu
National Pan-Hellenic Council: Alpha Kappa Alpha
Chapter GPA Awards
Overall Highest GPA
College Panhellenic Council: Phi Mu
Interfraternity Council: (Tied) Kappa Sigma and Kappa Alpha Order
National Pan-Hellenic Council: Alpha Kappa Alpha
Highest New Member GPA
College Panhellenic Council: Zeta Tau Alpha
Interfraternity Council: Phi Sigma Kappa
National Pan-Hellenic Council: Delta Sigma Theta
Most Improved GPA
College Panhellenic Council: Zeta Tau Alpha
Interfraternity Council: Tau Kappa Epsilon
National Pan-Hellenic Council: Alpha Kappa Alpha
Excellence in Academic and Scholarship
College Panhellenic Council: Phi Mu
Interfraternity Council: Sigma Nu
National Pan-Hellenic Council: Alpha Kappa Alpha
Excellence in Community Service and Philanthropic Activities
College Panhellenic Council: Alpha Delta Pi
Interfraternity Council: Delta Chi
National Pan-Hellenic Council: Alpha Kappa Alpha
Excellence in Campus Involvement and Leadership
College Panhellenic Council: Zeta Tau Alpha
Interfraternity Council: Phi Sigma Kappa
National Pan-Hellenic Council: Alpha Kappa Alpha 
Excellence in Chapter Development and Reporting
College Panhellenic Council: Alpha Delta Pi
Interfraternity Council: Delta Chi
National Pan-Hellenic Council: Alpha Kappa Alpha
Most Improved Chapter
College Panhellenic Council: Zeta Tau Alpha
Interfraternity Council: Delta Chi
National Pan-Hellenic Council: Phi Beta Sigma
Chapters of Merit
Alpha Sigma Alpha
Sigma Nu
Chapters of Excellence
Alpha Delta Pi
Alpha Kappa Alpha
Chi Omega
Phi Mu
Zeta Tau Alpha
Newsroom
Office of Communications Powell Hall West, Suite 1120
Mailing Address
1500 N. Patterson St.
Valdosta, GA 31698
General VSU Information
Office of Communications