Dr. Peggy Moch to Serve as President-Elect of Kappa Delta Pi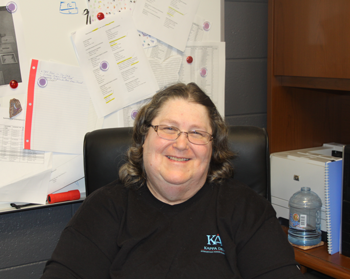 Dr. Peggy Moch
VALDOSTA – Dr. Peggy Moch, professor of mathematics education at Valdosta State University, has been elected as president-elect for Kappa Delta Pi International Honor Society in Education.
Founded in 1911, Kappa Delta Pi fosters excellence in education and promotes the fellowship of teaching professionals. Notable members of the organization include Albert Einstein, George Washington Carver and Margaret Mead. Membership is through invitation only.
Moch was elected president-elect among several candidates in the international organization. The selection process included a nomination and application process and an oral interview with two past presidents. Candidates were narrowed down to two, who were placed on the ballot during the international biennial convocation.
"The first convocation I attended was in 2001 in Orlando while I was a doctoral student at the University of Central Florida," said Moch. "As co-chair of the event, I got the chance to meet Dr. Janette Rogers, who was the international president at the time. During the 2013 convocation, I had the pleasure of seeing Dr. Rogers again and this time we got to talk about how I was on the ballot for international president."
Moch will serve as president-elect for two years before advancing to president in 2016.
"It is a really good system because it gives you two years to learn the ropes and learn what your responsibilities will be as president," said Moch. "I have some really big shoes to fill. My time as president-elect will give me time to answer the question of what type of legacy I want to leave for the organization and what I want to be remembered for by others."
Moch is a former vice president for the international society. She is responsible for chartering Valdosta State's Alpha Beta Kappa Chapter of Kappa Delta Pi as well.
"I was the chapter president of the Omicron Lambda Chapter at the University of Central Florida, so when I came up here (to VSU) I was looking to connect with the chapter here, but found out there was not one," said Moch. "I did what I could to make sure that VSU had a chapter of Kappa Delta Pi. Our claim to fame here at VSU is that we are the only chapter of the organization to be housed in the College of Arts and Sciences, and not in the College of Education."
Moch serves as a counselor for the university's chapter. She serves as a liaison between education students and professionals in education.
"Throughout the life cycle of teaching – from the novice to the professor – wherever you are in education, Kappa Delta Pi has something for you," said Moch. "The organization produces three refereed journals and is an organization that helps you grow and be the best educator that you can be. If you want to soar with eagles, you cannot hang around turkeys. Kappa Delta Pi houses eagles."
Newsroom
Office of Communications Powell Hall West, Suite 1120
Mailing Address
1500 N. Patterson St.
Valdosta, GA 31698
General VSU Information
Office of Communications