April 11, 2014
14-134
Jessica Pope
Communications and Media Relations Coordinator
VSU Opera, Chamber Singers Present Dido and Aeneas April 19-20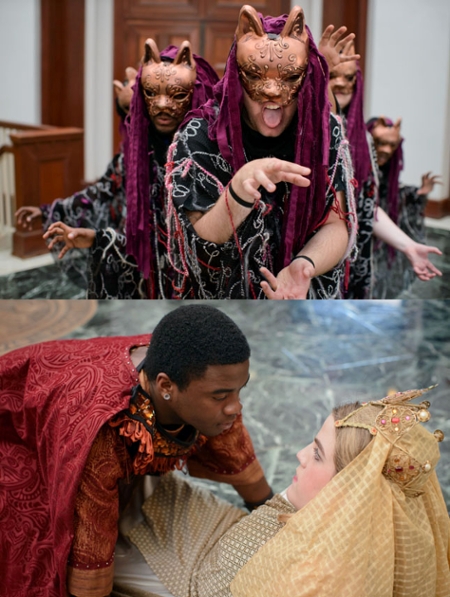 Photos by Bryan Garris / Valdosta State University Opera and Chamber Singers present "Dido and Aeneas" at 7:30 p.m. on Saturday, April 19, and 3 p.m. on Sunday, April 20, in the West Hall Rotunda. Tickets are limited to 100 people per performance and are on sale now.
VALDOSTA — The Valdosta State University Department of Music will present "Dido and Aeneas" at 7:30 p.m. on Saturday, April 19, and 3 p.m. on Sunday, April 20, in the West Hall Rotunda. Seating is limited to 100 people per performance.
Dr. Carol M. Mikkelsen, director of VSU Opera, described the short opera as a "Greek-Roman tragedy about Dido, once a goddess who became the human queen of Carthage, and Aeneas, the Trojan warrior prince who eventually founded the new Troy (Rome). He became shipwrecked on his way to Italy in Carthage and stayed long enough to fall in love with the widowed Queen Dido. Just as their future as husband and wife seemed to be in place, the forces of evil, personified by witches and a sorcerer, plotted to separate them. Aeneas left on his fore-planned journey, and Dido, grief-stricken, takes her own life in despair."
A tragic opera presented in three acts, "Dido and Aeneas" was written by the English Baroque composer Henry Purcell, with a libretto by Nahum Tate, based on his own play "Brutus of Alba" and Virgil's "Aeneid." It was first performed at Josias Priest's school in Chelsea, London, before December 1689.  
Traditionally, VSU Department of Music performances are held on the first floor of the Fine Arts Building, in Whitehead Auditorium. However, Mikkelsen explained the change in performance venue, saying, "The historic Classical architectural style of the West Hall Rotunda is perfectly suited for the setting of the opera, ancient Greece, and because 'Dido and Aeneas' is a chamber opera, the size of the Rotunda works well acoustically and dramatically."
The cast of the university's performance of "Dido and Aeneas" is comprised of VSU Opera students and members of the Chamber Singers, who recently returned from a weeklong musical journey through historic England. A live instrumental chamber ensemble consisting of five string players and a harpsichord will accompany the vocalists.
"Approximately half of the music for 'Dido and Aeneas' is choral," Mikkelsen noted. "Choral and solo singing is interspersed continually. The role of the chorus in this Baroque opera, which attempts to recreate the ancient Greek tragedy, is to reflect on the action and sentiment of the lead characters."
Tickets for "Dido and Aeneas" are $25 for adults, $5 for non-VSU students, and free for VSU students with valid identification and may be purchased by calling (229) 333-2150 or visiting www.valdosta.edu/music/opera before 5:30 p.m. on Thursday, April 17. If space is available, tickets will be sold at the door.
Mikkelsen noted that the performance "is appropriate and should be appreciated by all age groups. The music is beautiful and the drama is compelling."
Visit https://www.flickr.com/photos/valdostastate/sets/72157643800572024/ to view additional photos.
The Men and Women of "Dido and Aeneas"
Producer — Carol Mikkelsen
Conductor — Paul Neal
Stage Director — Tamara Hardesty
Orchestra — Mariana Krewer and Vitor Eduardo (violin), Daniela Cruz (viola), Alexander Paul (violoncello), Trent Harper (double bass), and Analine Acosta (harpsichord)
Cast — Esther Maloof (Dido, queen of Carthage); Rakeeta Laird (Belinda, her confidant); Rachael Campbell (second woman, attendant); Kamron Glover (Aeneas, Trojan prince); Nathan Calvert (sorcerer); Alexander Peterson (first witch); Ashley Hamilton (second witch); Terri Parker and Kiara Walker (spirits, in the form of Mercury); and Erin Walsh, Antoine Bray, David Poole, Nick Thompson, and Sean Wassmuth (witches)
Chorus — Bria Harrison, Mariah Hollis, Corinne Noyd, Katelyn Payne, and Avery Schultz (soprano); Chandler Clark, Scarlett Eirish, Gabrielle Ford, Aylesha Gurley, Amber Patterson, Leah Powers, Whitney Wiggins, and Kaitlin Aufenthie (alto); Pedro Arce, Nick Baggarly, Chad Capers, and Kevin Jackson (tenor); and Daniel Gibson, Lee Hillman, Patrick Ireland, Cody O'Shea, Stuart Price, Zack Serrott, Ben Watson, Issa Young, and Nick Collins (bass) 
Newsroom
Office of Communications Powell Hall West, Suite 1120
Mailing Address
1500 N. Patterson St.
Valdosta, GA 31698
General VSU Information
Office of Communications