VSU Hosts Visitors from WuFeng University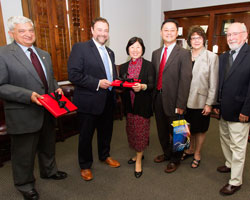 VSU welcomed guests from WuFeng University pictured left to right are Dr. Ivan Nikolov, director of International Programs; William J. McKinney, VSU president; Grace Lee, chairperson of the WuFeng Board of Trustees; Dr. Jack Lee, WuFeng University vice president; Dr. Connie Richards, dean of the College of Arts and Sciences; and Dr. David Danahar, interim provost and vice president for Academic Affairs.
VALDOSTA--Valdosta State University hosted representatives from WuFeng University as part of a continued partnership to provide study opportunities for criminal justice majors. Dr. Jack Lee, WuFeng University vice president, and Grace Lee, chairperson of the WuFeng Board of Trustees, visited Valdosta State April 16-17 and toured the campus, including residence halls, classrooms, and laboratories. 
In 2011, Valdosta State signed an agreement with WuFeng University, which has approximately 6,500 students and is located in Taiwan.  Since then, VSU's criminal justice students and faculty have traveled to WuFeng for exchange activities every year in the past three years. 
 "VSU students can benefit from this partnership agreement via participation in study abroad education, finding international internships in their field, and building global networking for business potentials," said Dr. Wilson Huang, VSU professor of criminal justice. 
Huang noted that additional opportunities for VSU students include teaching positions in Taiwan. Through VSU's certificate program in Teaching English to Speakers of Other Languages (TESOL), graduates can obtain faculty positions in Taiwan through the partnership with WuFung University. 
Huang said the partnership can expand to other majors for VSU students and WuFeng students. 
While in Valdosta, WuFeng University representatives had the opportunity to visit JM Eagle Manufacture plant in Adel, Ga., which is owned by a Taiwanese corporation. 
"There is a possibility that WuFeng University students may take an internship at the plant," said Huang. "Given that Valdosta is a tourism hub in our region, WuFeng University students currently majoring in tourism and hospitality may find similar internship opportunities in hotels or Wild Adventures. As to those students majoring in applied English at WuFeng University, they can consider taking courses in the summer. They can also consider or even apply for our graduate programs if we can develop bilateral educational incentives to students under the partnership agreement." 
For more information on the study abroad program, visit VSU's International Programs website 
http://www.valdosta.edu/colleges/arts-sciences/sacj/criminal-justice/
Newsroom
Office of Communications Powell Hall West, Suite 1120
Mailing Address
1500 N. Patterson St.
Valdosta, GA 31698
General VSU Information
Office of Communications