Vincent Spezzo to Present at Global Desire2Learn Conference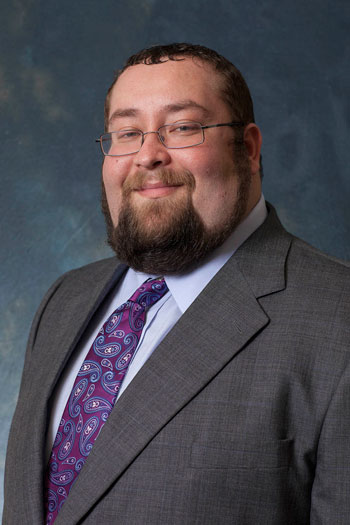 Vincent Spezzo, Senior Online Instructional Designer at VSU
VALDOSTA – In 2013, the University System of Georgia introduced a new learning management system, Blazeview Desire2Learn (D2L), which has transformed the way students participate in online learning programs. Valdosta State University's Vincent Spezzo has been selected to present on how D2L can be used to engage students through gamification during the Annual Desire2Learn Global Users Conference, to be held July 14-16 in Nashville, Tenn.
"Gamification is a fairly new strategy used to reach the students who are coming in today," said Spezzo, a senior online instructional designer with the university's Center for eLearning. "It is a technique used in many other fields to increase engagement with products. So we use it at a university level to increase engagement in courses themselves. It can be quite powerful."
Game-based learning uses competitive activities to challenge students and motivate course progression. Spezzo will host a 60-minute breakout session titled "Gamification: Leveraging the Desire2Learn Tools Already at Your Disposal."
"Without having to create new tools, I used our own Blazeview D2L to develop a system for a class," said Spezzo. "Blazeview has access to several tools that do well with gamification. For example, I used the news feature to create and update leaderboards, and the grade book has been used to develop a points system. I really started pushing the system out there with a class this spring and it seemed to work really well."
Spezzo also used an intelligent agent tool to create badges, which are presented to students when they reach certain levels in the class.
"Badging at its root is a way of providing a token that gives a student encouragement to reach the next level," said Spezzo. "Points, badges and leaderboards (PBLs) are at the core of the gamification experience and D2L provides a great platform to display and distribute these items."
FUSION is an annual international conference that brings D2L clients together to explore enhancements in the platform as well as best practices and various ways for improving the student learning experience.
"I am so proud of Vince's achievement," said Meg Moore, director of VSU's Office of Extended Learning and CEO of the University System of Georgia's eMajor. "To the best of my knowledge, Vince is the first member of the VSU community to have a proposal accepted. This is quite an achievement."
Spezzo is also submitting a presentation proposal for VSU's Fifth Annual Core Matters Conference in November. The theme for this year's conference is "Core Values: Innovations Across the Curriculum."
"I hope to provide a workshop for faculty as well just to show the base ideas of gamification and how we can incorporate these items into curriculum."
For more information on Spezzo's presentation, visit https://community.desire2learn.com/learn-gamification-fusion-2014/ . 
Newsroom
Office of Communications Powell Hall West, Suite 1120
Mailing Address
1500 N. Patterson St.
Valdosta, GA 31698
General VSU Information
Office of Communications