University Hosted Annual Retired Faculty and Staff Luncheon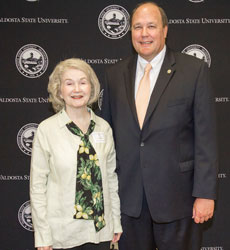 Dr. Rob Kellner, director of Auxiliary Services and Dr. Carol Mikkelsen were honored at VSU's 2014  Retired Faculty and Staff Luncheon on April 22, in the University Center.
VALDOSTA—Valdosta State University's faculty and staff honored their colleagues who retired during the 2013-2014 academic year. 
The annual Retired Faculty and Staff Luncheon was held April 22, in the University Center and was sponsored by the President's Office, VSU Retirees Association, Council on Staff Affairs, and Chartwells, and paid tribute to 16 faculty and staff members representing a combined 342 years of service to the university. 
Dr. Robert Kellner arrived at Valdosta State College in 1983 and served as director of Housing and Residence Life. Kellner has worked in various positions within Student Affairs and Finance and Administration, including assistant dean of students, director of Auxiliary Services and CEO of the VSU Auxiliary Services Real Estate Foundation. 
For 31 years Kellner has witnessed tremendous growth of the university, including the  addition of new residence halls, dining facilities, and various student facilities. 
"There have been so many memorable experiences over the years; two that quickly come to mind are the night we celebrated university status and being in Florence (Ala.) the first time we won the football national championship in 2004," said Kellner. "I will miss the former students that stop by my office when they are passing through Valdosta. I always enjoy hearing what they are doing and meeting their families." 
Dr. Carol Mikkelsen arrived at Valdosta State in 1970 in a temporary replacement period and worked as an adjunct and temporary faculty member until 1981, when she became assistant professor of music. 
With more than 44 years at Valdosta State, Mikkelsen, who directs VSU's opera program, does not plan on completely leaving the university. 
"I plan to stay involved, hopefully teaching part-time, attending College of the Arts events, and supporting music students in their endeavors," said Mikkelsen. "Of all the facets of full-time employment at VSU, teaching and mentoring students has been the most important to me. If I were not to teach at least part-time, I would miss it terribly." 
The success of her students and their accomplishments is what Mikkelsen treasures the most about her four decades at Valdosta State. 
"There are so many experiences spanning the 44 years that I can't begin to name them," Mikkelsen said. "My most outstanding experience is the compilation of student success." 
Kellner and Mikkelsen join a growing number of VSU retirees and have the opportunity to stay involved through the VSU Retirees Association (VSURA). 
Dr. Dennis Marks, chairman of the VSURA said the objective of the association is to provide ongoing communication between the university and its retirees. 
"This provides an opportunity for retirees to remain involved with ongoing life of the university and for the university to benefit from the accumulated wisdom of the retirees," said Marks. 
According to Marks, the VSURA hosts a monthly luncheon on the fourth Tuesday of each month during the academic year. The next retirees' luncheon is May 27; the presentation is titled "Making our World a Better Place" and will focus on the university's new Health Sciences and Business Administration building. 
All retired VSU faculty and staff are eligible for membership in the association, as well as spouses of deceased faculty and staff members. Dues are $10 annually or $100 for a one-time life membership. Dues are waived for first-year retirees, who are automatically inducted into the association at the Annual Retired Faculty and Staff Luncheon. 
Current Retirees as of April 1, 2014
Elizabeth E. Bartello, 2000-2014
Steven T. Blair, 1994-2013
Heather M. Brasell, 2003-2013
Lila J. Carson, 1994-2013
Maris W. Cato, 2001-2014
Rosalyn E. Hatcher, 1989-2014
Fred D. Hill, 1990-2014
Phyllis G. Holland, 1987-2014
Robert D. Kellner, 1983-2014
Wallace C. Koehler, 2001-2014
Edwana O. LeFiles, 1989-2014
William S. Lewis, 1990-2013
Carol M. Mikkelsen, 1981-2014
Suzannah A. Patterson, 1997-2014
Leonard G. Weld, 2002-2014
Raymond W. Young, 1987-2014
Newsroom
Office of Communications Powell Hall West, Suite 1120
Mailing Address
1500 N. Patterson St.
Valdosta, GA 31698
General VSU Information
Office of Communications