April 9, 2014
14-130
UPDATED: April 13, 2014
VSU Continues to Engage Undergraduate Students in Research and Scholarly Activities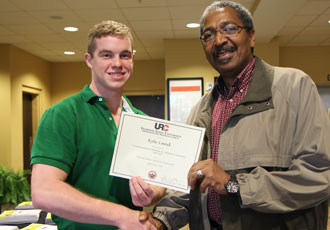 VSU student Kyle Land presented at the 20th Annual Undergraduate Symposium and is pictured with his faculty adviser Dr. Iwan Elstak, Department of Mathematics and Computer Science.  Land's presentation was "A Student-generated Mnemonic for Asymptotes of Rational Functions." Several QEP projects were also part of the oral presentations April 9-10.
VALDOSTA—More than 300 students participated in Valdosta State University's 20th Annual Undergraduate Research Symposium April 8-10. The symposium highlights the university's commitment and continued expansion in the area of discipline-based inquiry for undergraduate students.
In 2010, Valdosta State established a Quality Enhancement Plan (QEP) to promote undergraduate engagement in discipline-based inquiry. The first set of QEP projects (January 2011- September 2012) included research in the areas of anticancer drugs, military history, nursing and health care, child and adult language analysis, kitchen designs for the elderly, and social inequalities of Hispanic immigrants along the U.S. and Mexico border.
The QEP projects represent a paradigm shift that reinforces the message that research is performed in more places than within a conventional laboratory setting. The selected projects provided students with opportunities to conduct research and scholarly activities appropriate to their selected discipline.
"Undergraduate research is a powerful tool for retaining students, helping them to graduate and then encouraging them to go on to graduate school," said Dr. James LaPlant, interim dean of the Graduate School and assistant vice president for research. "Undergraduate research is also a powerful tool for first-generation college students and minorities. The whole heart of the QEP projects is mentoring undergraduate students."
LaPlant said the first QEP projects were very successful and impacted more than 150 undergraduate students across the six projects. The assessment phase revealed that students were successful in terms of achieving the QEP's three key goals:  develop basic knowledge of discipline-specific inquiry skills, apply discipline-specific inquiry skills from the classroom to resolve a specific question or problem, and learn why and how to present the results of discipline-based inquiry in a professional or academic forum.
Second set of QEP projects have been awarded and include:
"Studying Human Impacts on Water Quality in the Lakes and Rivers of Lowndes County, Georgia: Undergraduate Research and Investigations," Dr. Gretchen Bielmyer and Dr. Matthew Waters;
"Research of Climate Change Action Plan for Valdosta through Service-Learning" Dr. Jia Lu;
"Developing a New Group of Medicinal Agents," Dr. Thomas Manning;
"Improving Mechanical Test Methods in Biomaterials and Engineering," Dr. Barry Hojjatie;
"Involving Undergraduate Students in the Design of Future Wise Cars," Dr. Chunlei Liu;
"Engaging Students in Understanding Academic Cultures: An Interdisciplinary QEP Proposal," Dr. Donna Sewell, Dr. Michael Savoie, and Gardner Rodgers; and
"Toward the Internationalization of the Language Curriculum: Empowering Students Through Inquiry-based and Service Learning," Dr. Victoria Russell and Dr. Adolfo Carrillo Cabello.
The QEP projects will be monitored to assess progress and determine the improvement in the students' research skills throughout the process.
"With the first set of QEP projects faculty were assessing the students at the beginning, middle and end," said LaPlant. "However, we did not ask the students how they evaluated their research skills at the beginning and then how they evaluate their skills once the project is completed. That is what we are doing with now. Although it is an indirect measure of learning, we are getting valuable feedback from the students at the beginning and end of each project."
For more information, visit the QEP website at http://www.valdosta.edu/administration/sacs/qep/
Newsroom
Office of Communications Powell Hall West, Suite 1120
Mailing Address
1500 N. Patterson St.
Valdosta, GA 31698
General VSU Information
Office of Communications