Students Explore Corrosion of Steel in Pipelines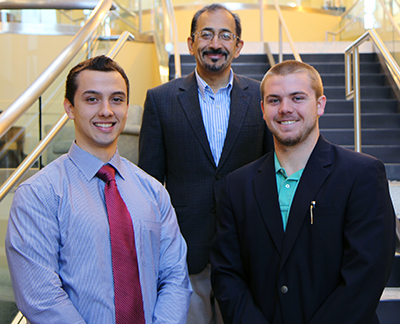 (Left to Right) Jordan Franklin, Dr. Barry Hojjatie and Joshua Brant
VALDOSTA – A good pipeline system is key in many industries, including gas, petroleum, and pulp and paper.  Pipeline corrosion can compromise the integrity and safety of proper transporting of goods and result in the loss of millions of dollars in engineering structures that are made with steel. With this in mind, students in Valdosta State University's Engineering Studies Program have explored factors that lead to the corrosion of steel used in the pipeline industry.
Since the beginning of the 2013-2014 academic year, engineering students Joshua Brant and Jordan Franklin have been working with Dr. Barry Hojjatie, professor and coordinator of the engineering studies program at VSU, to determine how the microstructure of steel used in pipeline can influence hydrogen diffusion into this material, which leads to corrosion and premature failure of the structure.
"Several times during the fall and spring semesters, the students have traveled to Georgia Tech to examine materials in a corrosion engineering lab, in collaboration with Dr. Ahmad Saatchi who serves as an engineering consultant on the project," said Hojjatie. "They performed simulated experiments at the lab, where they prepared samples from an actual pipeline steel, and charged them with hydrogen using a Potentiostat, in a special corrosion cell using various electrodes, in an aqueous solution. They simulated hydrogen penetration into the steel and determined the influence of microstructure of the steel using a standard heat treatment on the severity of damage in the material."
The VSU students presented this project at the annual meeting of the Georgia Academy of Science as well as VSU's Undergraduate Research Symposium.
"This type of research is particularly important for companies that require the use of steel pipelines, another benefit of this project was that by performing the experiments at Georgia Tech, our students were able to gain valuable knowledge about many state of the arts instrumentation related to field of materials science and engineering that were available at the Georgia Tech", said Hojjatie.
The research was conducted through a directed study course in engineering offered by Hojjatie. The project is supported by Valdosta State's Undergraduate Engagement in Discipline-Based Inquiry Quality Enhancement Plan (QEP),
Undergraduate Engagement in Discipline-Based Inquiry provides students with focused opportunities for engaging with faculty in research and scholarly activities appropriate to the discipline. Through an open competitive process, a call for proposals for projects was issued for innovative projects that achieve the QEP goals and articulate their student learning outcomes and assessments. The first round of funding included six projects from four colleges at Valdosta State. The university is currently in its second round of funding for QEP, with seven projects in sciences, social sciences and humanities this academic year. For more information about QEP, visit http://www.valdosta.edu/administration/sacs/qep/ .
Newsroom
Office of Communications Powell Hall West, Suite 1120
Mailing Address
1500 N. Patterson St.
Valdosta, GA 31698
General VSU Information
Office of Communications