Students Examine Physical and Mechanical Properties of Dental Ceramics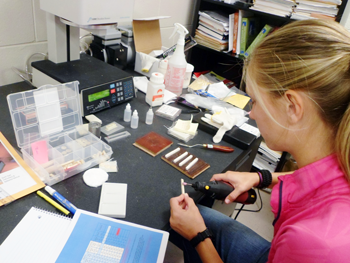 Lauren Hale preparing a dental porcelain sample to be tested.
VALDOSTA – Students in Valdosta State University's Engineering Studies Program are making strides to improve the field of cosmetic dentistry by examining the physical and mechanical properties of porcelain.
"Those in the field of dentistry are finding that dental ceramics prostheses do not last very long because of issues related to laboratory techniques, thermal incompatibility, and relatively large biting and chewing forces," said Dr. Barry Hojjatie, professor and coordinator of the engineering studies program at VSU, who supervises student research in dental materials. "They are supposed to last on average 15 years, but many of them fail sooner, particularly those in the posterior (back) area of the mouth. With this in mind, an experimental investigation of the strength of dental porcelain crowns and bridges, which dentists use for the restoration of patients' damaged teeth, was conducted."
The research was conducted through a directed study course in engineering offered by Hojjatie. The project is supported by Valdosta State's Undergraduate Engagement in Discipline-Based Inquiry Quality Enhancement Plan (QEP), which helped the engineering studies program secure a dental vacuum furnace and its accessories for fabrication of various porcelain samples.
"The original plan was to pay a dental lab in Valdosta so they could make the porcelain samples that we studied," said Hojjatie. "However, after some trials, the dental lab realized creating the samples with specified shapes and dimensions would be a challenge.  As a result, we purchased equipment and learned how to create samples consistent with ISO (International Organization for Standardization) standards ourselves. The students had to go through specific laboratory procedures to mix powders with water, place it inside molds, dry and put it in the furnace at appropriate temperature and heating rate, then grind it to specified dimensions to become ready for testing."
The students received training by local technicians as well as technicians from the University of Florida's College of Dentistry on how to create the samples out of porcelain powders.
"After going through polishing and preparation, the samples went through flexure (bending) tests using a VSU mechanical testing system to apply forces that simulated biting and chewing to test their strength," said Hojjatie.
Students involved with the study include Carlos Ponce, Lauren Hale, Minh Tran and Byung Kim.
"The students recently presented the results of the study during the Georgia Academy of Science annual conference and it was well received," said Hojjatie. "Their research is also part of VSU's 2014 Undergraduate Research Symposium.
Dr. Hojjatie who is a former dental material researcher from the University of Florida's College of Dentistry, said "we received generous support from the former colleagues from UF that provided us with various types of porcelain powders, molds, and guidelines in preparation of porcelain samples. This type of testing and collaboration among engineers and clinical researchers is essential for continuous improvement in dental ceramic prosthesis."
"There are more than 200 different batches of dental porcelains out there," said Hojjatie. "Each one of them has different physical, thermal, and mechanical properties. In order for technicians to understand the longevity of each batch, testing should be done to understand compatibility of thermal and mechanical properties. If those properties are not compatible the prostheses made from dental porcelains could contain micro-cracks, which can lead to premature failure. This type of testing helps provide knowledge of different ceramics and helps dental labs and dentists improve their selection of appropriate porcelain powders for construction of crowns and bridges."
Undergraduate Engagement in Discipline-Based Inquiry provides students with focused opportunities for engaging with faculty in research and scholarly activities appropriate to the discipline. Through an open competitive process, a call for proposals for projects was issued for innovative projects that achieve the QEP goals and articulate their student learning outcomes and assessments. The first round of funding included six projects from four colleges at Valdosta State. The university is currently in its second round of funding for QEP, with seven projects in sciences, social sciences and humanities this academic year. For more information about QEP, visit http://www.valdosta.edu/administration/sacs/qep/ .
Newsroom
Office of Communications Powell Hall West, Suite 1120
Mailing Address
1500 N. Patterson St.
Valdosta, GA 31698
General VSU Information
Office of Communications