April 29, 2014
14-160
Jessica Pope
Communications and Media Relations Coordinator
Selena Nawrocki Bridges Gap Between Fine Art, Interior Design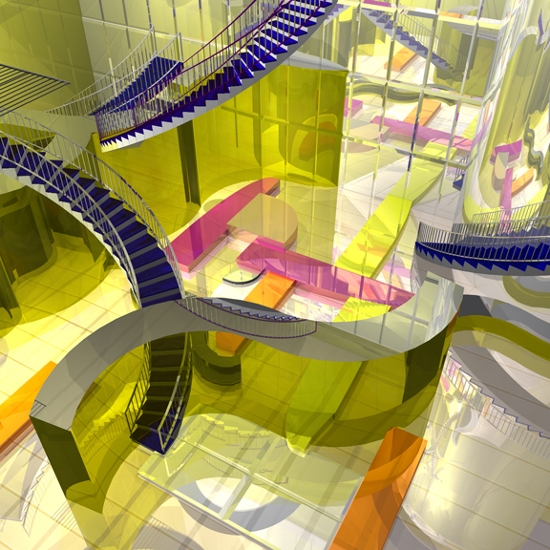 Rotary Steps Square by Dr. Selena Nawrocki
VALDOSTA — Dr. Selena Nawrocki's "Rotary Steps Square" won Best of Show at the 17th Annual Rio Brazos Art Exhibition in Granbury, Texas. She was among 50 artists from across the nation to be selected for the competition and exhibit, held April 13-27 at Tarleton State University's Dora Lee Langdon Cultural and Educational Center.   
The Valdosta State University interior design professor said, "It is wonderful to have my artwork recognized on a national level competing with other artists throughout the United States."
"Rotary Steps Square" was rendered on a computer and printed in a large 32-inch by 32-inch format with a plexiglass cover. It represents a room interior comprised of a series of highly reflective surfaces and multiple staircases. Nawrocki described it as a spacious, surreal environment, one created with vertical and horizontal elements that contrast with curvilinear shapes, rendered with tints and shades of color.
When asked if "Rotary Steps Square" was the result of a professional interior design assignment, Nawrocki answered, "No." She then explained, "I utilize interior design imagery in the creation of fine art, mixed media work."
"I have a strong studio art background working in all fine art media — in addition to interior design," she added. "My work bridges the gap between fine art and interior design, thus I am able to compete with studio artists throughout the United States."
Nawrocki briefly studied the oboe at the University of Alabama before transferring to Mississippi University for Women and earning a Bachelor of Fine Arts in interior design in 1993. She went on to earn a Master of Fine Arts in interior design from the University of Memphis in 1995, followed by a Doctor of Philosophy in technology / education, minor in art, from Mississippi State University in 2001. She is a registered interior designer in the state of Georgia and is certified by the National Council for Interior Design Qualification. She is a member of the Interior Design Educators Council Inc., American Society of Interior Designers, and Southern Artists' League.    
Nawrocki joined VSU's Department of Art faculty in fall 2001 and has served as the university's Interior Design Program coordinator since 2002. She was awarded the College of the Arts Excellence in Teaching Award for the 2004-2005 academic year and the university-wide Excellence in Teaching Award in 2005. She has received a total of three faculty research grants to photographically document the renovation of the Butler House in Des Moines, Iowa, and continue developing artwork exploring digital imagery framed with zinc and plexiglass in a complex shaped format.
Since arriving at VSU, Nawrocki's mixed media art compositions have been accepted to more than 100 international, national, and regional art competitions throughout the United States, winning 27 awards, including the Board of Directors Award at the San Diego Art Institute's 51st International Award Exhibition in San Diego, Calif., in 2011 and the Best In Show Award at the Arts and Design Society's 19th Southeast Regional Juried Fine Arts Exhibition at Northwest Florida State College in Niceville, Fla., also in 2011. 
Within the last 12 months, Nawrocki's work has been featured in exhibits in San Diego, Calif., Montclair, N.J., Boca Raton, Fla., Harrisonburg, Va., Murfreesboro, N.C., Memphis, Tenn., and Denton, Texas. Her work was also published in the fall 2013 issue of "Still Point Arts Quarterly."
Contact Dr. Selena Nawrocki at (229) 333-5835 or snawrock@valdosta.edu to learn more.    
Newsroom
Office of Communications Powell Hall West, Suite 1120
Mailing Address
1500 N. Patterson St.
Valdosta, GA 31698
General VSU Information
Office of Communications