April 11, 2014
14-135
Dr. Greg Rabidoux, Professor of Political Science
Political Students Shine During Model Senate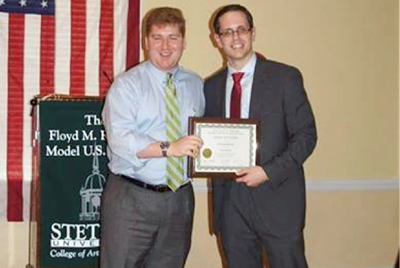 VSU student Nuck Rudick awarded Best Senator by Robert Jones, student at Stetson University and director of the Model Senate program. 
VALDOSTA - Political science students from Valdosta State University attended and were recognized during the 43rd Annual Floyd M. Riddick Model Senate at Stetson University March 13-15.
During the event, which modeled a three-day legislative session students assumed the identity of the nation's 100 real senators. Collectively, the senators debated proposed bills on the floor, worked closely on one of five committees, heard expert testimony during mark-up sessions and attempted to address the most pressing issues of the day.
"Our model senate showed that Congress can actually work and get things done," said Nick Rudick, junior political science major. "This conference helps participants understand how the real U.S. Senate works alongside dozens of other college students. From the start, I could tell the conference had been constructed by veterans."
During the event, Rudick served as Michigan Sen. Carl Levin, a position that ultimately made him the recipient of the competition's Best Senator Award.
Valdosta State students were also awarded the Best Committee Award during the competition. Students include Rudick, along with Matthew Cowan, sophomore, and Nicholas Buford, sophomore, who served as members of the armed services committee.
"Over the period of three days, I was able to get my bill introduced on the senate floor and passed with unanimous bipartisan support," said Buford. "I look forward to attending again next year."
MPA student Taton Thomas was also successful in getting several bipartisan bills passed as part of the HELP committee.
"It is not by coincidence that from these type of events we see many future, real-life elected officials get their start in politics," said Dr. Greg Rabidoux, professor of political science at VSU. "Nick and the entire VSU team are to be commended. As this year's coach and advisor, I was pleased with the spirit and seriousness with which the students took their roles. All credit goes to them."
Newsroom
Office of Communications Powell Hall West, Suite 1120
Mailing Address
1500 N. Patterson St.
Valdosta, GA 31698
General VSU Information
Office of Communications