Christina Merrion: Credits VSU Faculty with Preparing Her for Career in Exercise Physiology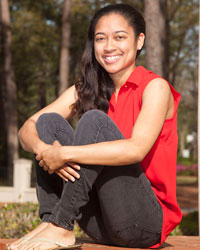 VALDOSTA--Arriving from the small town of Soperton, Ga., Christina Merrion came to Valdosta State University with the goal of becoming a physical therapist but later changed her career path to exercise physiology.
 
After completing course work in December to earn a degree in exercise physiology, Merrion recently finished a 400-hour internship at Verizon Health & Wellness, in Alpharetta, Ga.
 
Merrion credits the exercise physiology faculty with preparing her for the internship
 
"Valdosta State really prepared me for my internship," said Merrion. "The internship gave me a different aspect with personal training and nutritional counseling."
 
A former high school basketball player from Treutlen High School, Merrion believes in giving back to her community. While at Valdosta State she completed more than 250 hours of volunteer service including Relay for Life, VSU Holiday Helper, and also returned to her hometown to tutor high school basketball players.
 
As she prepares for graduate school, Merrion appreciates the faculty who helped her achieve her degree and prepare her for the future.
 
"The faculty were really great, they prepared me for my internship and I felt prepared for anything that was thrown at me," said Merrion, who was a member of the VSU Chapter of NAACP, the Black Student League and the Exercise Physiology Club. "I liked everything about the program and it was a good choice."

 
Meet Christina Merrion
 
Hometown: Soperton, GA
High School and year: Treutlen High School; 2009
Expected Graduation: Completed course work Dec. 2013, finished internship spring 2014
Degree/Major: Bachelor of Science in exercise physiology 
 
I chose to attend VSU because…I'm from a small town, so I wanted to attend an university in a city that wasn't too big, yet not to small, and VSU fit that description perfectly.  Also, I heard the school had a great reputation, so I figured, "Why not?" 
 
My favorite faculty member is…well I don't have just one; the entire EP faculty has been a big help since starting the program in 2012.  I'm currently interning in Alpharetta, Ga., and I feel very prepared at my internship site thanks to them.
 
My favorite class is…Exercise Cardiopulmonary Physiology.  Although I took the course awhile back, and the class was pretty challenging, I remember a lot of helpful information from it.  
 
My favorite part of VSU is…definitely the campus.  We have a great front lawn, and I often argue with my cousin, who's a Georgia Southern alumni, that we have the best campus in the state of Georgia.
If I could spend an afternoon with anyone…I would spend it with my dad; he passed away a month before my high school graduation.  I think it would be great to spend an afternoon with him, so he can see how much I've grown as a person, and to pick at him about the Red Sox winning the World Series instead of the Yankees. 
Three words that describe me are…funny, hardworking, and humble
The biggest supporters in my life…are my family members.  I'm very family oriented, and my family has always been behind me every step of the way in anything I've ever done.​
 
Newsroom
Office of Communications Powell Hall West, Suite 1120
Mailing Address
1500 N. Patterson St.
Valdosta, GA 31698
General VSU Information
Office of Communications