VSU Signs Pathways Program Agreement with North Florida Community College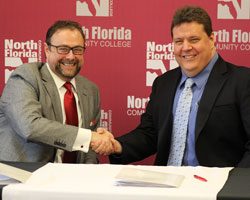 VSU President William J. McKinney (left) joints NFCC President John Grosskopf in signing Pathway Program agreements.
VALDOSTA—Valdosta State University (VSU) signed Pathways Program articulation agreements with North Florida Community College (NFCC) Friday, March 7 at the NFCC campus in Madison, Fla. The new articulation agreements will make it easier for NFCC graduates who have completed an Associate in Science (AS) or Associate in Arts (AA) degree to seamlessly transition into select programs offered at VSU.
Through the Pathways Program agreements, students graduating with an AS degree from NFCC can begin working on a Bachelor of Applied Science (BAS) degree with a major in human capital performance from VSU. In addition, students graduating with an AS or an AA degree from NFCC can begin work toward a Bachelor of Science (BS) degree from VSU in organizational leadership. The NFCC Associate in Science programs under the agreement includes: business administration, criminal justice, digital media/multimedia technology, early childhood education, emergency medical services, and registered nursing.
These articulation opportunities are being extended to both future and past graduates of NFCC. The related BAS and BA programs can also be completed entirely online at VSU.
"Valdosta State is excited to begin a new partnership with North Florida Community College and expand educational opportunities to Florida students," said VSU President William J. McKinney. "It is these types of collaborative relationships that will assist more students in earning the credentials they desire, and in helping to create a more highly educated workforce in our region."
In a separate agreement, NFCC and VSU have made the transition process easier for those who earn an Associate in Arts (AA) at NFCC and choose to continue their studies in a related discipline at the baccalaureate level at VSU. In addition to its general AA degree track, NFCC offers AA emphasis tracks in business, education and nursing.
"We are very proud to enter into these articulation agreements with Valdosta State University," said NFCC President John Grosskopf. "This partnership provides a wonderful opportunity for North Florida Community College graduates to continue their education at a high quality university only 30 miles away. VSU is a terrific partner and the Pathways Program articulation agreements will bring a number of additional options to our district students who want to further their education." 
For more information, contact Thressea H. Boyd (VSU) 229-333-2157 thboyd@valdosta.edu or Kim Scarboro (NFCC) 850-973-1613 scarboro@nfcc.edu
Newsroom
Office of Communications Powell Hall West, Suite 1120
Mailing Address
1500 N. Patterson St.
Valdosta, GA 31698
General VSU Information
Office of Communications