Program Helps Students Learn New Language with Ease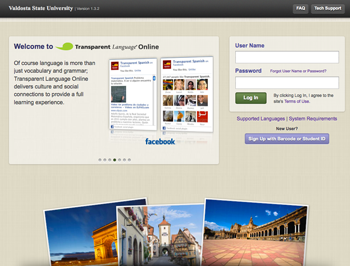 VALDOSTA – Valdosta State University students, faculty and staff can now learn a new language at their convenience with the Transparent Language Online program, which provides access to learning materials for more than 80 traditional languages.
"The program includes languages like Spanish, Cree American Indian, French, Haitian Creole, Arabic, Greek and many more," said Dr. Michelle Ocasio, assistant professor in the Department of Modern and Classical Languages. "It also provides English grammar learning materials for those who are learning English as a second language (ESOL)."
Ocasio is currently using the program in her Beginning Spanish Language and Culture II course. Nonetheless, students do not have to be enrolled in a foreign language or ESOL course to use the program, as it is open to everyone on campus.
 "I am already finding the program to be more enjoyable and immersive than Rosetta Stone's Japanese and Korean language offerings," said Rickey Hooks, a senior biology major at VSU. "The application appears to be an unlimited access version that features a massive selection of languages."
In addition to offering various languages, the program provides several activities that cover all aspects of language such as writing, speaking, listening to and reading. The program includes reports to track usage and progress as well.
"One of the main reasons that we got the program for our department is because students can also do voice recognition activities," said Ocasio, who also teaches Applied Linguistics for ESOL Instructors, English Grammar for ESOL Instructors and Afro-Descendant Cultures of the Caribbean and Latin America. "The program is comparable to Rosetta Stone; however, with it we purchased a license that allows the entire university to use it for free."
Ocasio added that students can use the program anywhere once they register.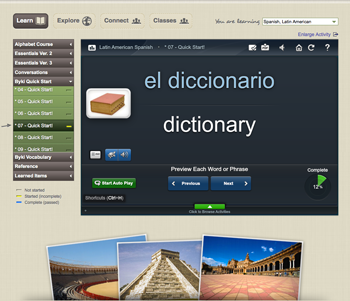 "It comes with a phone app so students can go anywhere in the world and still have access to it," Ocasio explained. "I tell my students that they can download classroom activities from their phones and complete activities for class."
She added that program is convenient for those who are visiting a country and learning that country's language.
"You not only learn vocabulary, but you learn common phrases. And for everything, there is voice recognition so you can always learn how to pronounce it correctly. We are hoping that students come out of this program with near-native fluency."
The Transparent Language Online program is available to all students at http://www.valdosta.edu/academics/elearning/main/current-students/student-resources/transparent-language-online.php and will soon be linked through the MyVSU portal.
For more information, contact Ocasio at maocasio@valdosta.edu .
Newsroom
Office of Communications Powell Hall West, Suite 1120
Mailing Address
1500 N. Patterson St.
Valdosta, GA 31698
General VSU Information
Office of Communications