Dr. Tricia Hale Joins VSU as Director of Counseling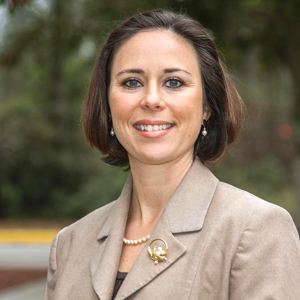 Dr. Tricia Hale
VALDOSTA - Valdosta State University welcomed Dr. Tricia Hale as the new director of the university's counseling center.
Hale joins the university with a decade of experience in counseling and higher education. She began her career as a graduate hall director at Saint Leo University. After three years, she accepted a position as assistant director of the university's Office of Counseling and Career Services.
Hale served as assistant director for three years before relocating to Orange County, Calif. as a program director of the HERO (Higher Education Recover Option) House, helping students transition from a substance abuse recovery program back into college life.
"From there, I took a position as a program director of a substance abuse outpatient treatment program at a women's prison in Brooksville, Fla., and then as a mental health specialist," said Hale.
In addition, Hale served as a contracted counselor for a private practice in Wesley Chapel, Fl. and with the Department of Juvenile Justice in Port Richey, Fla. She has also taught freshman seminar courses at Saint Leo University.
Hale joined Valdosta State on Feb. 3. As director of counseling at VSU, she is responsible for developing a cohesive counseling unit to ensure success in providing individual counseling, group counseling and psycho-education seminars. She also works with the coordinators of the Office of Alcohol and Other Drug Education and the Office of Health Promotions to ensure consistency across offices.
"I facilitate relationships between the center and others across campus and in the community," Hale said. "I also carry a caseload of students to make sure that I remain in the pulse of what is going on."
Hale is a three-time graduate of Saint Leo University, with an associate's degree in liberal arts, a bachelor's degree in psychology and a master's degree in counseling psychology. She also hold an Ed.D in Counseling Psychology from Argosy University.
The new director said that she has open doors and invites input from the campus community.
"I am open to ideas, suggestions and needs," said Hale. "I like to be a creative problem solver, so if there is something that we can do to help others that we aren't doing, I would like to work with others and think of creative ways to help support the students."
---
Valdosta State University's 2013-2019 Strategic Plan represents a renewal of energy and commitment to the foundational principles for comprehensive institutions.
Implementation of the plan's five goals, along with their accompanying objectives and strategies, supports VSU's institutional mission and the University System of Georgia's mission for comprehensive universities.
The story above demonstrates VSU's commitment to meeting the following goal:
Goal 5: Develop and enhance Valdosta State's human and physical resources.
Visit http://www.valdosta.edu/administration/planning/strategic-plan.php to learn more.
Newsroom
Office of Communications Powell Hall West, Suite 1120
Mailing Address
1500 N. Patterson St.
Valdosta, GA 31698
General VSU Information
Office of Communications