Alexandra Fortes: Experienced a Global Education and Gained Valuable Leadership Skills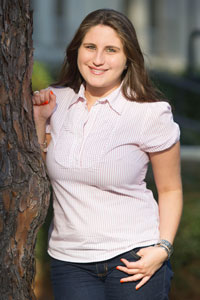 VALDOSTA--In a few short weeks, Alexandra d Fortes will graduate from Valdosta State University and plans to establish a career in international business, especially in the area of international security.
 
As a member of VSU's Model United Nations (MUN) team, Fortes has served as a delegate, conference director, and now president of the organization. She credits the student organization with providing her experience that she considers to be immeasurable.
 
"There are a number of things I have learned from MUN. When in conference, we have to defend the views and ideas of the nation we represent while being diplomatic and working with other nations whose views we might not necessarily agree with," said Fortes, who will graduate in May with a degree in political science and minor in French. "I learned to be diplomatic, to sympathize better with others, and to try and view things from a different perspective. I improved my public speaking and negotiating skills and learned how to work a room filled with anywhere from 100 to 400 people. I have become more confident as a person, pushed past my limits, learned how to interact with large groups of people, delegate tasks, make myself heard, and form alliances."
 
As part of the MUN team, Fortes has participated in regional and national conferences in Atlanta, New York, and Washington, D.C.
 
"Before we even get to conference, there is a lot of time and effort needed to prepare, and I've also learned a lot from it," said Fortes, who grew up in Brazil and first came to Valdosta as a high school exchange student. "Position papers follow a very strict guideline, and the language expected is far more professional than I had worked with before. Not only have I improved my vocabulary and writing skills, I have also improved my skills of research and analysis."
 
Serving as president of the university's MUN has also provided Fortes with valuable lessons in leadership and the opportunity to travel and meet people from many countries.
 
"As president of the organization, I have also learned how to lead, delegate tasks, proofread, head a conference, and multitask, among other things," said Fortes. " There is a lot more to MUN than meets the eye, but I highly recommend it to anyone slightly interested in international relations, politics, debate, and diplomacy."
 
Fortes is a scholarship recipient from VSU's International Programs scholarship and a member of the Society for International Students and Phi Gamma Mu, the International Honor Society in Social Sciences.
 
Meet Alexandra d Fortes:

Hometown: Salvador, Bahia, Brazil.

High School and Year: Mendel Villas (2009)
Expected Graduation: May 2014

Degree/Major: BA in political science, minor in French
 
I chose to attend VSU because… ​of its small size, beautiful campus, and scholarship offered to international students. 

My favorite faculty member is…. Dr. Carol Glen, my advisor, former teacher, and faculty advisor for the Model United Nations Organization at Valdosta State University. She has been a true inspiration and supporter. It was because of her that I became a MUN delegate, conference director, and then president of the organization, but she has pushed me to excel not only in MUN matters but anything else I pursue.  
 
My favorite class is… ​I can't pick just one. I would have to say Model United Nations, Conspiracy Theories and Terrorism, and International Crime. The first due to all the things it taught me and all the chances it gave me. The other two, because of the teachers --Mrs. Jennifer Holland, who is sadly no longer a VSU teacher and Dr. James LaPlant -- and the nature of the classes. I have always enjoyed the topic of international security, and the terrorism and international crime classes were very interesting. My inclination to this field is also present in MUN, as I have represented the United States and Denmark in the International Atomic Energy Agency committee and will be representing New Zealand in the Organisation for the Prohibition of Chemical Weapons ​committee in April.

My favorite part of VSU is… the Model United Nations organization

If I could spend an afternoon with anyone, I would spend it with….The Beatles

Three words that describe me… Motivated, compassionate, and punctual

The biggest supporter in my life is… ​I have too many supporters to pick just one, but my family is first and foremost. And among my family, my biggest supporters are and will always be my parents. They have made several sacrifices in order for me to attend a university and live abroad, and without their support and understanding I would never have been able to leave Brazil and chase after my dreams. 
---
Valdosta State University's 2013-2019 Strategic Plan represents a renewal of energy and commitment to the foundational principles for comprehensive institutions.
Implementation of the plan's five goals, along with their accompanying objectives and strategies, supports VSU's institutional mission and the University System of Georgia's mission for comprehensive universities.
The story above demonstrates VSU's commitment to meeting the following goals:
Goal 1: Recruit, retain, and graduate a quality, diverse student population and prepare students for roles as leaders in a global society.
Goal 3: Promote student, employee, alumni, retiree, and community engagement in our mission.
Visit http://www.valdosta.edu/administration/planning/strategic-plan.php to learn more.
Newsroom
Office of Communications Powell Hall West, Suite 1120
Mailing Address
1500 N. Patterson St.
Valdosta, GA 31698
General VSU Information
Office of Communications