February 5, 2014
14-35
Jessica Pope
Communications and Media Relations Coordinator
VSO Presents a Weekend 'Voyage of the Imagination' Feb. 7-9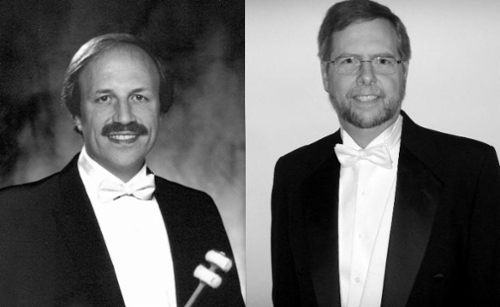 Mark Yanich (left) and David Morris (right)
VALDOSTA — Mark Yanich, principal timpanist of the Atlanta Symphony Orchestra, and his brother, Paul Yanich, principal timpanist with the Cleveland Orchestra, were the first to perform James Oliverio's "Dynasty" Double Timpani Concerto. The world premiere performance occurred in June 2011 in Atlanta.
This weekend Mark Yanich will perform the Oliverio concerto once again, this time in Valdosta, with the Valdosta Symphony Orchestra and his longtime friend David Morris, principal timpanist of the VSO and member of the Valdosta State University Department of Music faculty. Performances are scheduled for 8 p.m. on Saturday, Feb. 8, followed by a special family concert at 3 p.m. on Sunday, Feb. 9.
"I'm excited to be playing this great concerto again so soon — in Valdosta — and to be exploring its numerous dimensions further with David," shared Yanich, an active clinician, soloist, and music publisher who is also a member of the Emory University Department of Music faculty. "After hearing it … and seeing it … I hope the audience enjoys it as much as we do as performers."       
Yanich and Morris have worked together for several years, including performing the Phillip Glass Double Timpani Concerto with the Macon Symphony Orchestra in 2006 and the Albany Symphony Orchestra in 2008 and premiering another Oliverio piece, this one lasting 2.5 minutes and titled "EnCORE!"
Themed "Voyage of the Imagination" and featuring "music that has a visual aspect," shared Howard Hsu, music director of the VSO, the Valdosta Symphony Orchestra will kick off its Saturday performance with Anatoly Liadov's "The Enchanted Lake," Op. 62, creating "a haunting world of sound."
Oliverio's "Dynasty" Double Timpani Concerto will follow, with "at least 10 timpani and two soloists — Yanich and Morris — in the front of the stage."
"Mark Yanich and David Morris are two incredible musicians," Hsu said, "and the concerto utilizes the full range of their talents. One set of timpani and a soloist are set up on each side of me, so often the melody is split between the two of them in a way that the audience will be able to hear it bouncing between the soloists across the stage. But as exciting as this work is, it is also elegant and expressive."
The evening will conclude with Richard Strauss's "Der Rosenkavalier" Concert Suite, Op. 59, which "captures the flavor of Vienna," and Ottorino Respighi's "Fountains of Rome," which "evokes the beauty and majesty of the city's famous fountains."
A special youth concert featuring the Oliverio and Respighi pieces will be held at 10 a.m. on Friday, Feb. 7. That same day, from 3 p.m. to 5 p.m., Morris and Paul Campiglia, also a member of the Department of Music faculty at VSU, will host a master class for percussionists presented by Yanich.
Tickets for Saturday's performance, which is sponsored by Houston & Co., are $27 for adults and $10 for students. Senior and military discounts are available. Tickets for the Sunday family concert, which is sponsored by Tall Tree/Staten Crossing Apts Group, are $15 for adults and free for children. Friday's youth concert is free to area school children and sponsored by the Valdosta Symphony Guild.
All of this weekend's events will be held in Whitehead Auditorium, which is located on the first floor of the VSU Fine Arts building at the intersection of Oak Street and Brookwood Drive.  
Visit www.valdostasymphony.org or contact Sarah Alexander with VSU's College of Arts Outreach Office at (229) 333-2150 or swalexander@valdosta.edu to reserve tickets or learn more. Tickets are also available at the Box Office before each event.
Visit http://www.valdostasymphony.org/Symphonynotes.pdf and read more about the soloists and this weekend's program lineup.
The Downtown Symphony Club, a social group for young and young-at-heart music lovers and professionals, will meet prior to Saturday's performance for drinks and appetizers from 6 p.m. to 7 p.m. at Friends Grille and Bar. Contact Dr. Shannon Lowe, an instructor of bassoon, music theory, and chamber ensembles at Valdosta State, at srlowe@valdosta.edu to sign up. Club members receive a discount on single tickets, a pre-concert chat with the conductor, access to other members-only events, and more.
The Valdosta National 2014 exhibit in the VSU Fine Arts Gallery will be open for viewing before and after Friday's and Saturday's VSO performances.
---
Valdosta State University's 2013-2019 Strategic Plan represents a renewal of energy and commitment to the foundational principles for comprehensive institutions.
Implementation of the plan's five goals, along with their accompanying objectives and strategies, supports VSU's institutional mission and the University System of Georgia's mission for comprehensive universities.
The story above demonstrates VSU's commitment to meeting the following goals:
Goal 1: Recruit, retain, and graduate a quality, diverse student population and prepare students for roles as leaders in a global society.
Goal 3: Promote student, employee, alumni, retiree, and community engagement in our mission.
Goal 4: Foster an environment of creativity and scholarship.
Goal 5: Develop and enhance Valdosta State's human and physical resources.
Visit http://www.valdosta.edu/administration/planning/strategic-plan.php to learn more.
Newsroom
Office of Communications Powell Hall West, Suite 1120
Mailing Address
1500 N. Patterson St.
Valdosta, GA 31698
General VSU Information
Office of Communications