February 22, 2014
14-57
Erica Even, Student Assistant
VSU Student Dan Nix Receives Award at Georgia Collegiate Honors Conference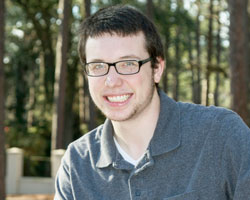 VALDOSTA – Valdosta State University's Dan Nix won first place for the Best Paper Award in the Humanities division at the Georgia Collegiate Honors Conference held Feb. 7 and 8 at Middle Georgia College in Macon, Ga. His paper was titled "Ethical Theories: Kant and Mill."
 
Nix is a freshman philosophy major from Nashville, Ga., who one day hopes to become a philosophy professor or a lawyer.
 
"I was smiling from ear to ear," Nix said about winning the award. "I was not expecting it at all."
 
The conference was themed "Honors without Borders," based on the idea that honors education breaks down the traditional boundaries to incorporate a "real world" atmosphere of education.
 
"This is an annual conference and we usually have a nice representative group from VSU," said Dr. Michael Savoie, interim dean of the Honors College. "It was an exceptional year and the students' work was quite good."
 
There were three categories for Best Paper: Humanities, Natural Sciences, and Social Sciences, along with a $200 cash prize for first place and $100 for second place.
 
Other honors students who presented at the conference included Amber Blocker, Jennifer Dandron, Adrienne Fry, Chase Kelly, Hunter Pope, Tamelonie Thomas and Lisa Wiltsee.
 
For more information about the conference, visit http://honors.mga.edu/gchc/conference_info.html or contact Michael Savoie at mpsavoie@valdosta.edu.
---
Valdosta State University's 2013-2019 Strategic Plan represents a renewal of energy and commitment to the foundational principles for comprehensive institutions.
Implementation of the plan's five goals, along with their accompanying objectives and strategies, supports VSU's institutional mission and the University System of Georgia's mission for comprehensive universities.
The story above demonstrates VSU's commitment to meeting the following goals:
Goal 1: Recruit, retain, and graduate a quality, diverse student population and prepare students for roles as leaders in a global society.
Goal 3: Promote student, employee, alumni, retiree, and community engagement in our mission.
Goal 4: Foster an environment of creativity and scholarship.
Visit http://www.valdosta.edu/administration/planning/strategic-plan.php to learn more.
Newsroom
Office of Communications Powell Hall West, Suite 1120
Mailing Address
1500 N. Patterson St.
Valdosta, GA 31698
General VSU Information
Office of Communications