February 28, 2014
14-65
Erica Even, Student Assistant
38th Annual International Dinner March 29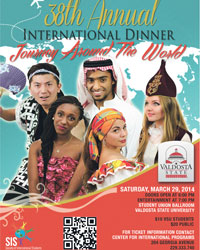 VALDOSTA – Valdosta State University's Society of International Students will host the 38th annual International Dinner "Journey Around the World" event at 6 p.m. Saturday, March 29 in the Student Union Ballrooms.
 
"The menu for this year's event will feature an eclectic blend of flavors in appetizers, entrees and desserts," said Lauren Braun, international student services coordinator. "I don't want to give away too much, but having reviewed the recipe submissions, which are under review by Chartwell's own Chef Sean Egan, I can say it'll be delicious."
 
Enjoy foods from different cultures such as the Americas, the Middle East, Europe and Africa featured at the International Dinner. Experience the cultures through the international fashion show and traditional dances and songs from Latin America, Africa, the Middle East, Asia and more.
 
The VSU Pan-American Ensemble, a diverse music group performing music ranging from folk to Mexican mariachi, will be performing as special guests under the direction of Brent Williams and Motion Dance Studios.
 
Tickets are now on sale for $20 for general admission, and $10 for students. Children under age 5 are free. Tickets can be purchased at the VSU Center for International Programs located at 204 Georgia Ave. by the Student Health Center.
 
Anyone interested is encouraged to buy his or her ticket in advance, as there were few available at the door last year. Tickets sold at the door will be sold full price at $20 to both student and general admission.
 
For more information, visit the Society of International Students' Facebook page or contact Lauren Braun at labraun@valdosta.edu or 229-333-7410.
---
Valdosta State University's 2013-2019 Strategic Plan represents a renewal of energy and commitment to the foundational principles for comprehensive institutions.
Implementation of the plan's five goals, along with their accompanying objectives and strategies, supports VSU's institutional mission and the University System of Georgia's mission for comprehensive universities.
The story above demonstrates VSU's commitment to meeting the following goals:
Goal 1: Recruit, retain, and graduate a quality, diverse student population and prepare students for roles as leaders in a global society.
Goal 2: Increase financial support for the institution.
Goal 3: Promote student, employee, alumni, retiree, and community engagement in our mission.
Visit http://www.valdosta.edu/administration/planning/strategic-plan.php to learn more.
Newsroom
Office of Communications Powell Hall West, Suite 1120
Mailing Address
1500 N. Patterson St.
Valdosta, GA 31698
General VSU Information
Office of Communications