January 21, 2014
14-13
Jessica Pope
Communications and Media Relations Coordinator
VSU Opera Brings Mozart, Pasatieri to Whitehead Auditorium Jan. 25-26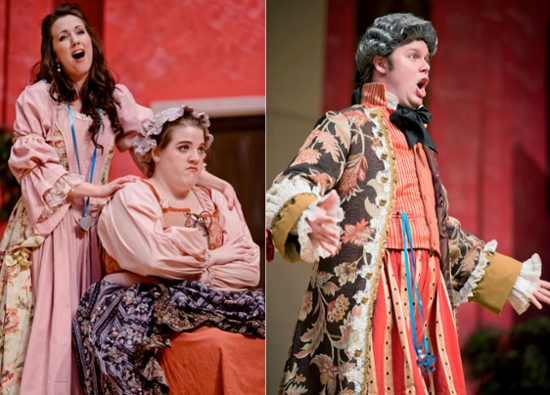 VSU Opera presents Opera: Then and Now, a double bill of Mozart's The Impresario and Pasatieri's Signor Deluso, at 7:30 p.m. on Saturday, Jan. 25, and 3 p.m. on Sunday, Jan. 26. (Photos by Bryan J. Garris)
VALDOSTA — Valdosta State University Opera will present Opera: Then and Now, a double bill of comic operas, at 7:30 p.m. on Saturday, Jan. 25, and 3 p.m. on Sunday, Jan. 26, in the Fine Arts Building's Whitehead Auditorium. Tickets are $25 for adults, free for university students with identification, and $5 for non-university students.
The program will begin with Wolfgang Amadeus Mozart's Der Schauspieldirektor (The Impresario), which "describes the woes of a struggling opera company — a common tale — with broad humor," shared Dr. Kenneth Kirk, professor of music at VSU and opera conductor. The performance will feature an original updated script by noted soprano Dr. Tamara Hardesty, who teaches voice at the university, and Dr. John Gaston in the role of the impresario, Dr. Scruples.
"Dr. Gaston draws on his own experience for this role," Kirk explained. "If anyone knows the difficulties of arts administration, he does."
A comic singspiel, The Impresario was written by Mozart to a German libretto by Gottlieb Stephanie, an Austrian playwright, director, and librettist.  It was Mozart's entry in a musical competition sponsored on Feb. 7, 1786, by Holy Roman Emperor Joseph II at the Schönbrunn Palace in Vienna, who wanted to pit a German singspiel against an Italian opera, in this case Prima la musica e poi le parole (First the music and then the words) by Antonio Salieri.
VSU Opera's weekend double bill will conclude with leading New York composer Thomas Pasatieri's Signor Deluso, which is based on the play Sganarelle by Jean-Baptiste Poquelin, better known as Molière. (The French composer created the character Sganarelle as his own version of Don Juan's dim-witted and cowardly sidekick Leporello.)
Signor Deluso has been described as a comedy of errors, one with layer upon layer of misunderstanding.
"In our double bill, Signor Deluso is produced by the Impresario company after its restructuring. We have tried to enhance Pasatieri's wonderful Pucciniesque music by thickening his lean chamber orchestration with the addition of contrabasses, absent in the original orchestration, with other string doublings," noted Kirk.
Signor Deluso is a personal favorite of Dr. Carol Mikkelsen, who directs VSU's opera program and serves as producer of the upcoming Opera: Then and Now. It was previously performed by VSU in 1985 and was the last work produced on campus before the development of what is now known as VSU Opera.
According to VSU Opera insiders, Opera: Then and Now promises to reveal a bit of new technological scenic wizardry, a first for Valdosta and the state of Georgia. 
A youth performance, featuring Pasatieri's Signor Deluso, will be held at 10 a.m. on Friday, Jan. 24. Admission is free of charge for this special event.
Call (229) 333-2150 for information and tickets. Tickets may also be ordered online at www.valdosta.edu/music/opera.
Opera: Then and Now
Producer — Carol Mikkelsen
Conductor — Kenneth Kirk
Stage Director — Tamara Hardesty
Scenic Designer — Hollis Barnett
Costumer — Esther Iverson
Technical Director — Joe Muncy
Sound Engineer — Bryan Garris
Orchestra — Mariana Krewer, Natalie Chang, Vitor Eduardo, Alexandra Lipsky, and Elma Sanabria on violin; Daniela Cruz and Mario Rivera on viola; Alexander Paul and Da'Nette Stevens on violincello; Joshua Weathers and Trent Harper on doublebass; Nicole Kessler on flute; Chelsea Slagor and Suzanne North on oboe; Alexa Luper and Curtis Nichols on clarinet; John Pope and Sara Hatchett on bassoon; Kristen Johns and Cecelia Stevens on horn; Eduardo Farias and Miller Moor on trumpet; William Smith on timpani; and Analine Acosta on piano
Cast of The Impresario — John Gaston as Dr. Scruples, retired dean of the College of the Arts; Daniel Griffin as Mr. Bluff, his assistant; Nathan Calvert as Mr. Beauford T. Angel III, a wealthy Valdosta businessman; Caroline Hatchett as Gabrielle Goldentrill, a "mature" opera diva; and Rakeeta Laird as Savannah Silverpeal, an aspiring opera diva
Cast of Signor Deluso — Gabrielle Goldentrill as Célie; Mr. Bluff as Gorgibus, her father; Esther Maloof as Rosine, her maid; Sean Wassmuth as Signor Deluso, Italian emigré neighbor; Shelby Miller as Clara, his wife; Antoine Bray as Léon, who is in love with Célie; and Zack Serrott as The Town Magistrate
---
Valdosta State University's 2013-2019 Strategic Plan represents a renewal of energy and commitment to the foundational principles for comprehensive institutions.
Implementation of the plan's five goals, along with their accompanying objectives and strategies, supports VSU's institutional mission and the University System of Georgia's mission for comprehensive universities.
The story above demonstrates VSU's commitment to meeting the following goals:
Goal 1: Recruit, retain, and graduate a quality, diverse student population and prepare students for roles as leaders in a global society.
Goal 3: Promote student, employee, alumni, retiree, and community engagement in our mission.
Goal 4: Foster an environment of creativity and scholarship.
Goal 5: Develop and enhance Valdosta State's human and physical resources.
Visit http://www.valdosta.edu/administration/planning/strategic-plan.php to learn more.
Newsroom
Office of Communications Powell Hall West, Suite 1120
Mailing Address
1500 N. Patterson St.
Valdosta, GA 31698
General VSU Information
Office of Communications