Thomas/Pierce Scholarship Honors First Two African-American Students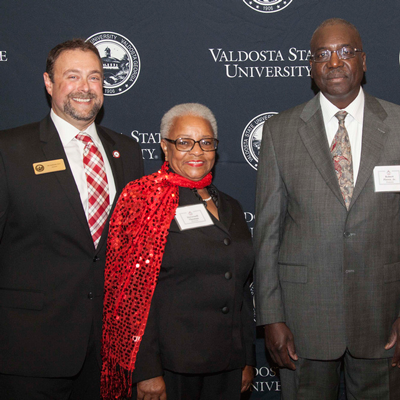 VSU President William J. McKinney with Drewnell Thomas and Robert Pierce
VALDOSTA – Valdosta State University's 50 Years of Integration celebration committee has established the Thomas/Pierce Scholarship in honor of the institution's first two African-American students, Drewnell Thomas and Robert Pierce.
The scholarship will benefit first generation college students who maintain a 3.0 grade point average and remain in good academic standing at Valdosta State.
"Dacia and I have been both honored and humbled to meet and get to know Drewnell and Robert," said Dr. William J. McKinney, president of VSU. "In 1963, and now in 2014, they stand as exemplars of bravery and commitment. I can think of no better way of honoring them than with a scholarship that will benefit future generations of VSU students."
The scholarship was established to commemorate integration at Valdosta State and serve as a lasting symbol of the university's commitment to cultural appreciation and diversity.
"In these times that students face significant challenges in dealing with college affordability, the Thomas/Pierce Scholarship will stand as the university's commitment to providing access to students from all backgrounds," said Dr. Maggie Viverette, director of the Office of Social Equity and chair of the 50 Years of Integration celebration committee. "It allows the university to reach deeply into the next 50 years and ensures that students from diverse backgrounds will have the financial support needed to achieve the dream of a college education."
Thomas and Pierce expressed that they were pleased to learn that the university and committee had established a scholarship fund as part of the celebration.
"The 50 Years of Integration celebration is an important statement of the university's values," said Pierce. "In carrying out the events and activities of the celebration, it is commemorating an important part of its history—a history of positive growth and development of the university. The scholarship contributes to the celebration in a significant way by making the celebration not just a statement of the university's values, but by providing a concrete demonstration of what it espouses. My hope is that the scholarship will help make it possible for many deserving students to attend college and achieve their full potential in college, their career and communities."

Pierce added that he could relate to the financial need of some students – a need that "can be an almost insurmountable barrier to higher education for some students."
"I know the heartbreak students and families feel when a bright and promising student has to leave college due solely to the fact that the family cannot afford to pay for college," Pierce said. "A scholarship can make the difference between going to college or not."
In addition to providing an avenue for academic scholarship, Thomas feels that the scholarship leaves a permanent "legacy of the racial integration began in 1963." She added that the celebration itself has left her awed, surprised and honored.
"I am in awe at the commitment of VSU President William McKinney and his cabinet to promoting racial dialogue that leads to racial understanding, to racial tolerance and to racial parity," said Thomas.
Sponsors for the scholarship will be recognized at "Celebrating 50 Years," which features award-winning actor, bestselling author and activist Hill Harper. The semi-formal event will be held Tuesday, Feb. 25. To make a contribution to the scholarship, please visit www.valdosta.edu/integration  or https://www.valdostastate.org/SSLPage.aspx?pid=184 . Be sure to select "Other" in the Designation drop down box and then type "Thomas/Pierce Scholarship Fund" in the text field. 
---
Valdosta State University's 2013-2019 Strategic Plan represents a renewal of energy and commitment to the foundational principles for comprehensive institutions.
Implementation of the plan's five goals, along with their accompanying objectives and strategies, supports VSU's institutional mission and the University System of Georgia's mission for comprehensive universities.
The story above demonstrates VSU's commitment to meeting the following goals:
Goal 1: Recruit, retain, and graduate a quality, diverse student population and prepare students for roles as leaders in a global society.
Goal 2: Increase financial support for the institution.
Goal 3: Promote student, employee, alumni, retiree, and community engagement in our mission.
Goal 4: Foster an environment of creativity and scholarship.
Visit http://www.valdosta.edu/administration/planning/strategic-plan.php to learn more.
Newsroom
Office of Communications Powell Hall West, Suite 1120
Mailing Address
1500 N. Patterson St.
Valdosta, GA 31698
General VSU Information
Office of Communications