Graduates Share Common Passion for Spanish and Teaching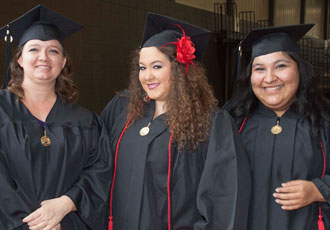 "Las Tres Amigas"  Three friends Heather Soto, Kelley Miranda Simms, and Marybel Louise Ortega supported each other throughout their time at Valdosta State and on Dec. 7 graduated with degrees in Spanish education.
VALDOSTA --Valdosta State University's fall 2013 graduating class includes more than 870 traditional and non-traditional students all achieving their goal of furthering their education and earning a college degree. Many attribute their success to parents, family, faculty and mentors, and the friends they shared hours of classes with during their journey. 
Heather Soto, Kelley Miranda Simms and Marybel Louise Ortega understand the importance of faculty mentors and friendship. The trio comes from very diverse backgrounds, but that did not hinder them from forming a bond that will last a lifetime. Through their college journey they have supported each other and together they graduated on Dec. 7 with degrees in Spanish education. 
Desire to Help Others Inspired Heather Soto 
Before starting at Valdosta State, Heather Soto worked in South Carolina as a hanger forewoman for a plumbing company and in construction. With the uncertainty of construction work, she and her husband moved to Valdosta with their three children. 
"When I was younger my goal was always to go to college. Then those bad influences gained control, which later led me to believe that I would always have a minimum wage paying job, so it was a surprise to have actually finished something important in my life," said Soto. "My husband and I decided that it would take me less time than him to get a degree, so we overcame a defaulted student loan and got me back on track." 
While working in construction, Soto would help interpret OSHA safety regulations to employees who did not have a very good command on the English language. 
"I have always loved Spanish and love to make people see other cultures by way of language," said Soto. "This kind of insight opens so many minds and doors of opportunity." 
She credits Dr. Grazyna Walczak and Dr. Victoria Russell, both faculty members within VSU's Department of Modern and Classical Languages, with helping her navigate through the college process. 
"Dr. Russell has guided all of us in the foreign language education department to make the right decisions and to help us in everything we do," said Soto. "Dr. Walczak is my mentor because she was gracious to except my request to be. She helped me with Spanish grammar and concepts like no other professors have. She has a passion for what she teaches and loves to teach Spanish." 
The mentoring Soto received from her professors will help to shape her future goals to work on a master's degree in Spanish education and eventually receive a doctorate in education. 
"I told her [Walczak] it would be a huge job to be my mentor, but she still accepted. I have been truly inspired by both of these professors and hope to be as awesome as they are one day," said Soto.
College Degree Provides Many Options for Kelley M. Simms 
After graduating from Open Bible Christian School in Valdosta, Kelley Miranda Simms juggled many options for her life, and college was not at the top of her list. 
"I thought I would be a stay at home mom and wife," said Simms. "I really had no idea what I wanted to do.  I had ideas that maybe I would be a nurse or teacher because many people told me that I looked like one." 
After struggling with career options, Simms decided she wanted to be a Spanish teacher. 
"I knew that my favorite class in high school was Spanish, and I have always worked with children at church, so I decided to combine the two and make a career out of it," said Simms. 
Throughout her college career, Simms struggled with managing the stresses of life, financial obligations, and balancing work and school. 
She gives credit to Dr. Ericka Parra, associate professor of Spanish, with helping her stay at Valdosta State and earn a degree. 
"Dr. Parra encouraged me to not give up and keep trying. She gave me the courage to speak up and speak out in class," said Simms. "I wish that I had people like her to talk to from the start, and that could have given me much more advice." 
Simms stayed active during her time at Valdosta State, including starting a Spanish camp for children during the summer, serving as treasurer of the Latin American Student Association, assisting with programs in Women and Gender Studies, participating in a study abroad trip to Peru, and traveling to Mexico to help orphans as part of a medical mission. 
Much like selecting a major, Simms has many possibilities for her future. 
"I plan to teach in Spain for a year, where I will be an English teacher and fully immersed in the culture," Simms said. "My passion is to work with children and teach them Spanish and English. I am also interested in working on a master's and a doctorate in education or Spanish education. I also have offers to live in Guatemala and Mexico for a year to teach in the schools."
 Developing Lasting Relationships with Faculty Helped Marybel L. Ortega Succeed
Marybel Louise Ortega grew up in Lufkin, Texas, and moved to Statenville, Ga., when she was 12 years old. Going to college was a goal Ortega's mother had for her, and she readily admits it has always been her dream to earn a college degree.
"The reason I moved to South Georgia was because my parents separated when I was 10. My mother moved us to Georgia and began working as a field worker for one of the farms in Echols County," said Ortega. "We moved at times when the seasons changed. When I first arrived I didn't understand anything, not the accent or the culture. It took me a year to adjust from Texas to Georgia. It was definitely tough at first, but I slowly fell in love with South Georgia." 
Determination and dedication, along with a lot of studying, helped Ortega earn the Colleges Assistant Migrant Program scholarship at Abraham Baldwin Agricultural College (ABAC) in Tifton, Ga. 
Ortega said she always thought she could be a good teacher and she credits her inspiration to Echols County High School Spanish teacher Kristi Bejarano. 
"After a semester at ABAC I was recommended to be a Spanish tutor for the tutoring center on campus and was able to have firsthand experience working with other students taking Spanish classes on campus," said Ortega, who transferred to VSU in 2009. "It was then that I discovered my love for teaching. It felt amazing knowing that I had helped someone learn my native language, and they were able to use what I taught them not only in the classroom but in the real world." 
Ortega has begun looking for a job teaching Spanish and would like to assist in an English for Speakers of Other Language (ESOL) program. She also plans to continue her education and earn a master's degree in Spanish or secondary education, as well as become an American Sign Language interpreter. 
Ortega credits the relationships she developed with her professors as the most memorable and inspiring part of her time at Valdosta State. 
"My professors have always inspired me to do better than I thought I was able to do," said Ortega. "I think the thing that has impacted me the most since my arrival at VSU was the amount of people I got to meet and become friends with over the years, most of whom I am still friends with today. I finally felt like I found a place where I could just be me and for once in my life didn't have to excuse myself for being different or feel bad for being so driven."
---
Valdosta State University's 2013-2019 Strategic Plan represents a renewal of energy and commitment to the foundational principles for comprehensive institutions.
Implementation of the plan's five goals, along with their accompanying objectives and strategies, supports VSU's institutional mission and the University System of Georgia's mission for comprehensive universities.
The story above demonstrates VSU's commitment to meeting the following goals:
Goal 1: Recruit, retain, and graduate a quality, diverse student population and prepare students for roles as leaders in a global society.
Goal 3: Promote student, employee, alumni, retiree, and community engagement in our mission.
Visit http://www.valdosta.edu/administration/planning/strategic-plan.php to learn more.
Newsroom
Office of Communications Powell Hall West, Suite 1120
Mailing Address
1500 N. Patterson St.
Valdosta, GA 31698
General VSU Information
Office of Communications