Graduate Jennifer Gleason finds passion for writing an exciting career choice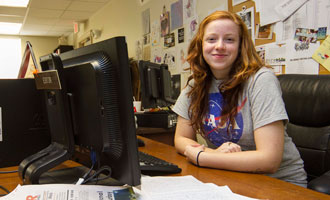 Jennifer Gleason, editor-in-chief for The Spectator, appreciates the hands-on experience she gained while working on the university's student newspaper.

VALDOSTA--Entering a profession that is constantly changing offers exciting challenges for Jennifer Gleason, who graduated Dec. 7 with a bachelor's degree in English, with an emphasis in journalism.
The McDonough, Ga., native was drawn to Valdosta State University after hearing friends and high school classmates talking about the university.
"At the time, I knew a lot of people from Atlanta who were talking about VSU," said Gleason. "I took a trip to look at it for myself and fell in love with the Spanish architecture, and I loved West Hall. It looked like the old, classic liberal arts school you see in movies. It was a no-brainer for me after that."
While in high school, Gleason worked on her school's newspaper and found her passion for writing. The opportunity to work on The Spectator, the university's student newspaper, provided her the hands-on experience and opportunity to expand her writing and editing skills.
Balancing schoolwork and her newspaper duties often proved to be a challenge but was something Gleason learned to handle while she served as a reporter, managing editor, and editor-in-chief for The Spectator.
"Dealing with an anxiety disorder my entire life, the stress levels definitely got to me at times, carrying both a job and schoolwork," said Gleason. "You always have to be alert for the breaking news and be able to react. Sometimes, I have had to step away and focus on my schoolwork, and if we missed a story, all we could do was apologize later if it became a problem."
Gleason is proud of her work on the university's newspaper and realized that it serves an important communication function on campus.
"At the end of the day, school was priority, but we bent over backward trying to do as much as we could for the campus community," Gleason said. "My only hope is that despite all the fears, tears, and sweat, we managed to do a decent job in the past two years."
The real-world experience working on The Spectator and mentoring from faculty provided Gleason with the knowledge and skills to enter the ever-changing profession of journalism.
"I see becoming more creative with multimedia coverage," said Gleason. "My dream is to write profiles and cover content for magazines like the Rolling Stone. With that said, I see in five to 10 years, the business asking for more of reporters than finding someone high-brow to write about."
Gleason credits Valdosta State's journalism faculty with preparing her for the field of journalism, including Edward Braun, who was her first English instructor and was willing to listen and assist with academic challenges.
"Braun has continued to be a mentor to me and help me sort out all of my stresses throughout my time at VSU," said Gleason.
While working on The Spectator, Gleason sought advice and guidance from Dr. Pat Miller and Dr. Ted Geltner.
"My spirit wasn't ever easily broken by the stresses of my job, but I had moments where I would falter," said Gleason. "Dr. Geltner and Dr. Miller were there to remind me that I was there for a reason and that they believed I could achieve what I set out to achieve."
Gleason looks forward to the challenges of working in journalism and would like to find a career in magazine publication or the music industry.
---
Valdosta State University's 2013-2019 Strategic Plan represents a renewal of energy and commitment to the foundational principles for comprehensive institutions.
Implementation of the plan's five goals, along with their accompanying objectives and strategies, supports VSU's institutional mission and the University System of Georgia's mission for comprehensive universities.
The story above demonstrates VSU's commitment to meeting the following goals:
Goal 1: Recruit, retain, and graduate a quality, diverse student population and prepare students for roles as leaders in a global society.
Goal 3: Promote student, employee, alumni, retiree, and community engagement in our mission.
Goal 4: Foster an environment of creativity and scholarship.
Visit http://www.valdosta.edu/administration/planning/strategic-plan.php to learn more.
Newsroom
Office of Communications Powell Hall West, Suite 1120
Mailing Address
1500 N. Patterson St.
Valdosta, GA 31698
General VSU Information
Office of Communications