Angelica Williamson Named Employee of the Semester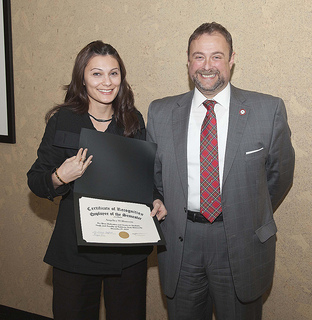 Angelica Williamson stands with VSU President William McKinney
VALDOSTA – Valdosta State University named Angelica Williamson as its Fall 2013 Employee of the Semester. Williamson works as a work order scheduler in the office of Physical Plant and Facilities Planning, which provides timely and professional services to the campus including utility systems, road and ground maintenance, building maintenance and custodial services.
Williamson was nominated for the recognition by her supervisor, Michael Knight. She was described as a "model employee and superior representative of VSU." Williamson is recognized as having developed the work order metrics for the maintenance sections, managed the real estate information for the buildings on campus and developed tutorials for people to use the work order software."
Runner-ups for Employee of the Semester were Shanika Hezekiah, restricted funds accountant, and Xavier Cheevers, desktop support supervisor.
As part of financial services, Hezekiah, handles a large number of grants and contracts and is said to be a "top notch employee who is always going the extra mile." Cheevers was nominated by Diane Bellflower, CAD operator and designer, because of his willingness to take care of problems quickly and efficiently – ensuring that everyone understands the work completed and steps to take if issues reoccur.
Other nominees include: Barbara Graham, Wendy Miller, Brian Haugabrook, Todd Howard, Leonard Kumpik, Sherri Adams, Selenseia Holmes, Ronald Butler and Louise Nathan.
"These employees exemplify the values of Valdosta State," said Dr. Denise Bogart, director of human resources and employee development. "They are chosen based on criteria that include innovative ideas, team effort, problem solving and customer service."
VSU's Council on Staff Affairs presents the Employee of the Semester Award at the end of every fall and spring semester. All full-time classified staff employees are eligible for the award.
For more information, visit http://ww2.valdosta.edu/cosa/COSAEmployeeoftheSemester.shtml .
---
Valdosta State University's 2013-2019 Strategic Plan represents a renewal of energy and commitment to the foundational principles for comprehensive institutions.
Implementation of the plan's five goals, along with their accompanying objectives and strategies, supports VSU's institutional mission and the University System of Georgia's mission for comprehensive universities.
The story above demonstrates VSU's commitment to meeting the following goals:
Goal 1: Recruit, retain, and graduate a quality, diverse student population and prepare students for roles as leaders in a global society.
Goal 3: Promote student, employee, alumni, retiree, and community engagement in our mission.
Goal 5: Develop and enhance Valdosta State's human and physical resources.
Visit http://www.valdosta.edu/administration/planning/strategic-plan.php to learn more.
Newsroom
Office of Communications Powell Hall West, Suite 1120
Mailing Address
1500 N. Patterson St.
Valdosta, GA 31698
General VSU Information
Office of Communications