VSU Hosts International Education Week 2013
VALDOSTA – Valdosta State University will join the state and nation in its celebration of International Education Week Nov. 11-16.
A joint initiative of the U.S. Department of State and the U.S. Department of Education, International Education Week is held to promote programs that prepare Americans for a global environment and attract future leaders from abroad to study, learn and exchange experiences in the United States.
"With over 300 international students who attend Valdosta State University, plus the growing number of students who study abroad, this celebration is very important to this university as well as the community," said Lauren Braun, coordinator for International Student Services. "This is an opportunity for international students and domestic students to share world cultures and enjoy a global experience without ever leaving the country."
The week begins with an international student panel discussion titled "Breaking Bad Stereotypes", which will be held at 6 p.m. Monday in the University Center. Other events include the study abroad fair as well as a pizza party and screening of the 37th Annual International Dinner.
"There are also some opportunities for outreach," said Braun. "Tuesday, the university will welcome more than 30 ESOL (English as a Second Language) students from Lowndes High School for them to experience a day in college. We will also visit Valdosta High School to meet with its international club on Wednesday."
International Education Week is sponsored by the Center for International Programs and Society for International Students. For more information, please contact Lauren Braun at labraun@valdosta.edu or (229)-333-7410.
International Week Schedule:
(http://www.valdosta.edu/academics/academic-affairs/international-programs/student-information/iew.php)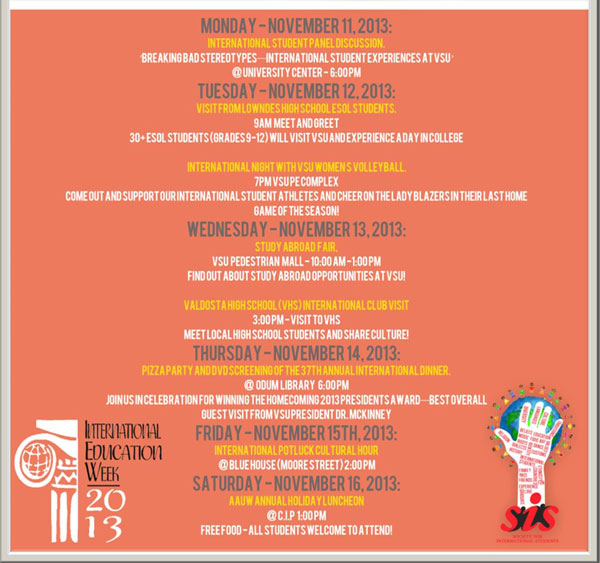 ---
Valdosta State University's 2013-2019 Strategic Plan represents a renewal of energy and commitment to the foundational principles for comprehensive institutions.
Implementation of the plan's five goals, along with their accompanying objectives and strategies, supports VSU's institutional mission and the University System of Georgia's mission for comprehensive universities.
The story above demonstrates VSU's commitment to meeting the following goals:
Goal 1: Recruit, retain, and graduate a quality, diverse student population and prepare students for roles as leaders in a global society.
Goal 3: Promote student, employee, alumni, retiree, and community engagement in our mission.
Visit http://www.valdosta.edu/administration/planning/strategic-plan.php to learn more.
Newsroom
Office of Communications Powell Hall West, Suite 1120
Mailing Address
1500 N. Patterson St.
Valdosta, GA 31698
General VSU Information
Office of Communications