University welcomes Niki Turley as new associate dean of students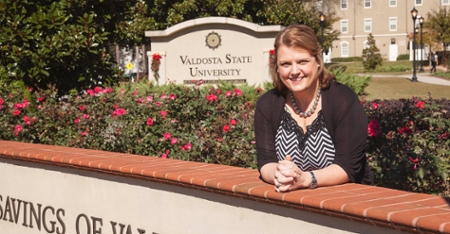 The Division of Student Affairs welcomes Niki W. Turley as the new associate dean of students at Valdosta State University.

As associate dean of students, Turley will oversee the departments of Testing, Orientation, Leadership, and the Access Office. In addition, she will manage the parents program, campus ministries, and social media for the Division of Student Affairs.

"My goals for this year are simple. I want to acclimate myself to the culture of VSU by listening to those who have been here longer and building relationships throughout the university," said Turley. "Secondly, as I gain a deeper understanding of the identity of both the institution and the division of Student Affairs, I want to support and further vice president Mast's vision for the division."

Coming to Valdosta State represents a homecoming for Turley, who graduated from the university in 1993 with a bachelor's degree in political science. She received her first full-time position at Valdosta State as residence director and summer conference coordinator.

With the goal of helping students succeed, Turley is excited to be back at Valdosta State and appreciates the university's continued commitment and focus on student mentoring through research, campus organizations, co-curricular activities, and academic classes.

Turley discussed the vital role Student Affairs plays in a student's overall college success.

"In Student Affairs we assist students in developing competencies that compliments their formal education," said Turley. "More so than ever, college is not just about obtaining a diploma but mastering the knowledge and skills necessary to be successful and competitive. This requires an intentional and seamless partnership between student affairs and academic affairs."

Turley brings 20 years of experience working as a student affairs professional in higher education, including more than 10 years at Elon University where she held positions as associate director of Residence Life Operations, director of Residence Life, and assistant dean of students.

While at Elon University, Turley worked to enhance the residential experience for the more than 3,000 students living on campus through the implementation of living-learning programs, peer mentoring opportunities, integration of university's strategic goals with Student Affairs programs, development of residential facilities, and as a member of the university's Student Behavioral Threat Assessment Team.

Turley received a Master of Science in counseling psychology (marriage and family counseling) from Palm Beach Atlantic University. She advised  Zeta Tau Alpha sorority at Elon University, is a trained hospice volunteer, and a member of National Association of Student Personnel Administrators (NASPA).

---

Valdosta State University's 2013-2019 Strategic Plan represents a renewal of energy and commitment to the foundational principles for comprehensive institutions.

Implementation of the plan's five goals, along with their accompanying objectives and strategies, supports VSU's institutional mission and the University System of Georgia's mission for comprehensive universities.

The story above demonstrates VSU's commitment to meeting the following goals:

Goal 1: Recruit, retain, and graduate a quality, diverse student population and prepare students for roles as leaders in a global society.

Goal 3: Promote student, employee, alumni, retiree, and community engagement in our mission.

Goal 5: Develop and enhance Valdosta State's human and physical resources.

Visit http://www.valdosta.edu/administration/planning/strategic-plan.php to learn more.
Newsroom
Office of Communications Powell Hall West, Suite 1120
Mailing Address
1500 N. Patterson St.
Valdosta, GA 31698
General VSU Information
Office of Communications