November 22, 2013
13-348
Erica Even, Student Assistant
Sundin Earns First-Level Certification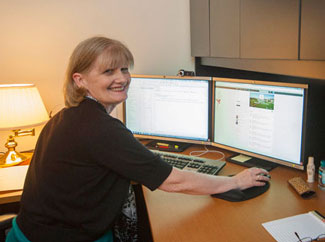 Kathy Sundin
VALDOSTA – Valdosta State University's Kathy Sundin completed her first level of certification for the Sloan-Consortium Online Foundation Certification on Nov 8.
VSU is a member of the Sloan-Consortium, which is one of the most prestigious programs in national and international online learning. The foundation offers workshops, conferences, and professional development opportunities.
"I am very proud of Kathy and her achievement is a tremendous gift to VSU's campus," said Meg Moore, Office of Extended Learning and eMajor Director. "The achievement truly speaks to her commitment to VSU."
Sundin is the online communications coordinator for the Center of eLearning. She recently completed a nine-week online course that prepares educators to teach and improve their own online courses.
The course teaches important skills such as strategies for online syllabus and course design, approaches to creating engaging learning activities and assessments, approaches for creating accessible content that is available to all students, strategies for incorporating technology into an online course to enhance content, and many other relevant skills.
"I am using the knowledge gained to build an online course that will be a resource to faculty new to online teaching for sharing tips and techniques," said Sundin.
Sundin plans on tackling the second level of certification by February 14, 2014. This level is the final level and includes three elective courses. Sundin will take Engaging Learners in Online Discussions, Strategies for Successful Group Work, and Effective Feedback Strategies.
Contact Kathy Sundin at kjsundin@valdosta.edu for more information.
---
Valdosta State University's 2013-2019 Strategic Plan represents a renewal of energy and commitment to the foundational principles for comprehensive institutions.
Implementation of the plan's five goals, along with their accompanying objectives and strategies, supports VSU's institutional mission and the University System of Georgia's mission for comprehensive universities.
The story above demonstrates VSU's commitment to meeting the following goals:
Goal 1: Recruit, retain, and graduate a quality, diverse student population and prepare students for roles as leaders in a global society.
Goal 3: Promote student, employee, alumni, retiree, and community engagement in our mission.
Goal 4: Foster an environment of creativity and scholarship.
Goal 5: Develop and enhance Valdosta State's human and physical resources.
Visit http://www.valdosta.edu/administration/planning/strategic-plan.php to learn more.
Newsroom
Office of Communications Powell Hall West, Suite 1120
Mailing Address
1500 N. Patterson St.
Valdosta, GA 31698
General VSU Information
Office of Communications