October 16, 2013
13-298
Erica Even, Student Assistant
VSU's Amanda King-Spezzo Wins 2013 GoVIEW Collaborative Administrator Award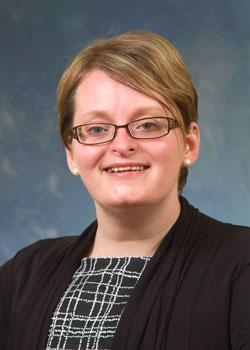 Amanda King-Spezzo
VALDOSTA - Valdosta State University's Amanda King-Spezzo received the 2013 GoVIEW Collaborative Administrator Award at the October Collaborative Program Services' User Group Meeting in Athens.
King-Spezzo is the assistant director for Instructional Technology Systems and eLearning at VSU. This will be her fifth year as VSU's primary GoVIEW administrator.
The award was presented to King-Spezzo in recognition of her outstanding service and support as a collaborative administrator for the USG collaborative Desire2Learn learning management system called the Georgia Online Virtual Instruction Enterprise Wide (GoVIEW).
"I am extremely honored to be selected as the 2013 GoVIEW Collaborative Administrator," King-Spezzo said. "Supporting faculty and student use in the collaborative learning environment and engaging with the USG staff and partners at other institutions has been a stimulating and worthwhile endeavor."
She was selected for this award by the University System of Georgia's (USG) central organization for technology-based services.
Contact Amanda King-Spezzo at ajking@valdosta.edu for more information.
---
Valdosta State University's 2013-2019 Strategic Plan represents a renewal of energy and commitment to the foundational principles for comprehensive institutions.
Implementation of the plan's five goals, along with their accompanying objectives and strategies, supports VSU's institutional mission and the University System of Georgia's mission for comprehensive universities.
The story above demonstrates VSU's commitment to meeting the following goals:
Goal 1: Recruit, retain, and graduate a quality, diverse student population and prepare students for roles as leaders in a global society.
Goal 3: Promote student, employee, alumni, retiree, and community engagement in our mission.
Goal 4: Foster an environment of creativity and scholarship.
Goal 5: Develop and enhance Valdosta State's human and physical resources.
Visit http://www.valdosta.edu/administration/planning/strategic-plan.php to learn more.
Newsroom
Office of Communications Powell Hall West, Suite 1120
Mailing Address
1500 N. Patterson St.
Valdosta, GA 31698
General VSU Information
Office of Communications