October 1, 2013
13-275
Jessica Pope
Communications and Media Relations Coordinator
VSU Repertory Dancers Present 'On the Edge' Oct. 3-6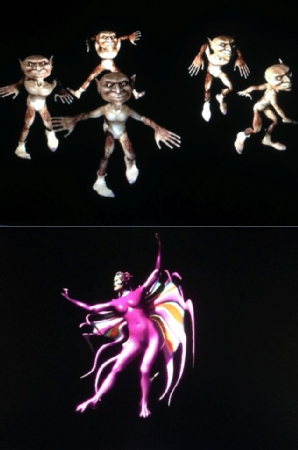 Scenes from "Attic Antics," choreographed by Eric Brandt Nielsen and featuring Motion Capture technology.
VALDOSTA — The Valdosta State University Repertory Dancers will present "On the Edge" at 7:30 p.m. Thursday, Oct. 3, through Saturday, Oct. 5, and 3 p.m. on Sunday, Oct. 6. The annual dance concert will feature original choreography and "restagings" from the Theatre and Dance Area's extensive repertoire by Sarah Wildes Arnett, Eric Brandt Nielsen, and Catherine Schaeffer.
"It's hard to believe that this is the VSU Repertory Dancers' 28th season," shared Eric Brandt Nielsen, founding director, VSU Dance Program coordinator, and professor of dance, in his director's notes. "Once again our annual concert shows the creative artistry of our students and faculty in a variety of dance genres."
Nielsen noted that VSU Dance Program students and faculty were inspired when Dr. William J. McKinney, VSU president, challenged the campus to be more innovative. 
"Catherine Schaeffer and Sarah Wildes Arnett have both exemplified their artistry in reflecting what is happening in the world today and have incorporated new technology to enhance the creative experience," Nielsen added. "Both of these artists have also been gracious enough to work with the old guard — Hollis Barnett and myself — on a new technological program entitled Motion Capture. Through the time-consuming process of using three computer programs, Hollis has captured choreography on six different cameras and converted live dancers into animated figures. The advancements in computer animation have provided us with a cleaner and more articulate performance that I am sure will fascinate the audiences."
Schaeffer is a professor of dance, and Arnett is an assistant professor dance. Barnett is a professor of art specializing in sculpture and animation.
Individual tickets for "On the Edge" are $12 plus tax for adults, $10 plus tax for senior citizens, $8 plus tax for children and non-VSU students, and free for all VSU students with a valid university identification card. They are $7 plus tax for groups of 10 or more at a single performance.
Season memberships, which include eight admissions to be used as desired by the member throughout the 2013-2014 theatre and dance season, are $55 plus tax for the public and $50 plus tax for university faculty and staff. Patronages are available at a variety of levels, from $150 to $1,000, and benefit scholarships.
All individual tickets and season memberships will incur a 25-cent processing fee. 
Tickets may be purchased by calling the VSU Theatre and Dance Box Office at (229) 333-5973 between the hours of 2 p.m. and 5 p.m. Monday through Saturday.
"On the Edge" will be performed on the Sawyer Theatre stage, which is located on the first floor of the Fine Arts Building, at the intersection of Brookwood Drive and Oak Street. There will be one 15-minute intermission. 
Contact Eric Brandt Nielsen at (229) 333-5840 or enielsen@valdosta.edu to learn more.
---
Valdosta State University's 2013-2019 Strategic Plan represents a renewal of energy and commitment to the foundational principles for comprehensive institutions.
Implementation of the plan's five goals, along with their accompanying objectives and strategies, supports VSU's institutional mission and the University System of Georgia's mission for comprehensive universities.
The story above demonstrates VSU's commitment to meeting the following goals:
Goal 1: Recruit, retain, and graduate a quality, diverse student population and prepare students for roles as leaders in a global society.
Goal 3: Promote student, employee, alumni, retiree, and community engagement in our mission.
Goal 4: Foster an environment of creativity and scholarship.
Goal 5: Develop and enhance Valdosta State's human and physical resources.
Visit http://www.valdosta.edu/administration/planning/strategic-plan.php to learn more.
Newsroom
Office of Communications Powell Hall West, Suite 1120
Mailing Address
1500 N. Patterson St.
Valdosta, GA 31698
General VSU Information
Office of Communications