VSU Names 2013 Distinguished Alumni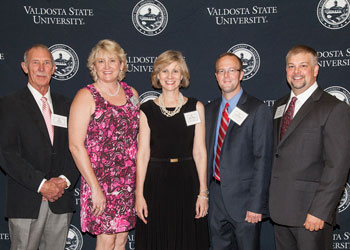 VSU recognized the 2013 Distinguished Alumni during homecoming on Oct. 4, from left, James McGahee, Sandra Reed-Lichtenfeld, Betty T. Dixon, Scott Hudler and Edgar Vincent Clark.
VALDOSTA—The Valdosta State University Alumni Association announced five 2013 Distinguished Alumni of the Year recipients during homecoming activities on Oct. 4.
The Dewar College of Education and Human Services selected Edgar Vincent Clark, '96 & '98, a practicing speech and language pathologist. He holds national certification through the American Speech-Language-Hearing Association.
Clark was recognized for his professional and leadership abilities by the Georgia Speech-Language-Hearing Association (GSHA) and in 2012 received VSU's Dr. Robert A. Hull Leadership Award.
Clark provides seminars for students within VSU's Department of Communication Sciences and Disorders, emphasizing real-life experiences and case studies.
The College of Nursing and Health Science selected Dr. Elizabeth Tonning Dixon, '79, director of nursing and clinical services for the Coastal Georgia Health District, Savannah, Ga. Dixon holds a master's in health science administration from Armstrong Atlantic State University and a Doctor of Public Health from Georgia Southern University.
In 2012, Dixon, along with her sister, Barbara Tonning Miller, presented research on the human papilloma vaccine, or Gardasil, to the National Institutes of Health. She has presented multiple times throughout the United States on school-based influenza programs and co-authored a recent article on vaccines in the Journal of School of Nursing. Her professional expertise includes immunizations and vaccine-preventable diseases.
James McGahee, '79, was selected by the Langdale College of Business Administration. He recently retired as chief executive officer of South Georgia Medical Center.
McGahee is a past member of the board for Valdosta-Lowndes County Chamber of Commerce, Healthcare Financial Management Association, American Institute of Certified Public Accountants, Georgia Hospital Association, and American College of Healthcare Executives.
He is currently serving as chairman of the Langdale College of Business Administration Business Advisory Board and is chairman of the board of the Georgia Alliance of Community Hospitals.
The College of the Arts selected Scott Hudler, '94, vice president of global consumer engagement for Dunkin' Donuts. In his position, Hudler is responsible for advertising, in-store merchandising, media, loyalty, and digital activities for the brand of more than 9,700 Dunkin' Donuts locations in the United States and 31 countries worldwide.
Prior to joining Dunkin' Donuts, Hudler was with Mars Inc., where he served as the brand manager for Snickers and also managed the company's sports marketing relations with the National Football League and NASCAR.
Dr. Sandra B. Reed-Lichtenfeld, '83, was selected by the College of Arts and Sciences. She is a board certified OB-GYN with a practice in Thomasville, Ga., and specializes in minimally invasive surgery and pelvic floor reconstruction.
Reed-Lichtenfeld has served on several local, state and national committees that work toward establishing medical policies. She is currently a member of the Relative Value Update Committee, which determines physician work for the Medicaid fee schedule, and is on the Georgia State Board of Education. She is immediate past-president of the Medical Association of Georgia, former president of the Georgia OB-GYN Society, and served on the board of the Technical College System of Georgia for nine years.
---
Valdosta State University's 2013-2019 Strategic Plan represents a renewal of energy and commitment to the foundational principles for comprehensive institutions.
Implementation of the plan's five goals, along with their accompanying objectives and strategies, supports VSU's institutional mission and the University System of Georgia's mission for comprehensive universities.
The story above demonstrates VSU's commitment to meeting the following goals:
Goal 1: Recruit, retain, and graduate a quality, diverse student population and prepare students for roles as leaders in a global society.
Goal 3: Promote student, employee, alumni, retiree, and community engagement in our mission.
Visit http://www.valdosta.edu/administration/planning/strategic-plan.php to learn more.
Newsroom
Office of Communications Powell Hall West, Suite 1120
Mailing Address
1500 N. Patterson St.
Valdosta, GA 31698
General VSU Information
Office of Communications