October 29, 2013
13-315
Jessica Pope
Communications and Media Relations Coordinator
Valdosta Symphony Orchestra Hosts 'An Evening With Amadeus'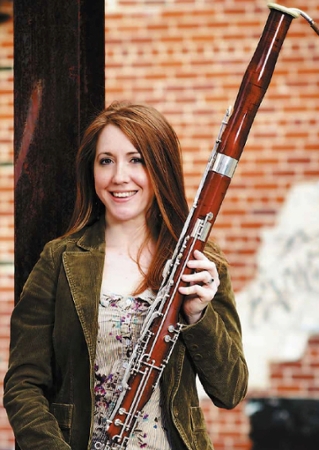 Photo by Bryan Garris / valdosta State University
VALDOSTA — Shannon Lowe is one of the few bassoonists, if not the only one, to have performed Amadeus Mozart's Bassoon Concerto for the captain, the crew, and the passengers of a Southwestern Airlines flight from New York to Florida — at over 30,000 feet in the air.
On Saturday, Nov. 2, Lowe will be the featured soloist when the Valdosta Symphony Orchestra presents "An Evening with Amadeus." The concert will begin at 8 p.m. in Valdosta State University's Whitehead Auditorium, and this time she will perform the Bassoon Concerto for Mozart fans on the ground.
"This is Shannon's solo debut with the VSO, and our audience will get to experience what an engaging performer she is," said Dr. Howard Hsu, VSO music director.
The second subscription concert of the VSO's 2013-2014 season, "An Evening with Amadeus" will begin with the artist's Overture to "Lucio Silla," K. 135.
Mozart was only 16 years old when he composed "Lucio Silla," an Italian opera in three acts, said Hsu.  
"Just imagine being a teenager and being commissioned to write an opera and travel to Milan to oversee the performances," he shared.   
Regarding the second selection of the night, the Bassoon Concerto in B-flat Major, K. 191, Hsu said that not many composers wrote concertos for the bassoon, especially during the 1700s. Concertos were more often written for the violin and piano.
"But this work is a true gem that is jovial, charming, lyrical, and beautiful — not bad for an 18-year-old composer," he added.
The concert will conclude with Mozart's "Prague" Symphony, Symphony No. 38 in D Major, K. 504, which Hsu described as "a more mature work that demonstrates his full mastery."
"The city of Prague adored Mozart, so he premiered this symphony there during a visit," he explained. "It is one of my favorites. It bristles with excitement and drama."
Lowe discovered the bassoon as a middle school student on a quest to be different. She asked to play the English horn initially, but her school did not own one; she was told to choose between the oboe and the bassoon. She went on to earn a Bachelor of Music in music education and Master of Music in bassoon performance from the University of Florida and a Doctor of Musical Arts in bassoon performance from State University of New York at Stony Brook. She was lead singer in a funk band, Das Funkhaus, during her graduate school days. She dabbles in piano and guitar and also plays the contrabassoon, which is twice the size of the bassoon.
Lowe joined the VSU Department of Music faculty in 2009 and teaches computers in music and music in film classes, freshman music theory labs, and bassoon lessons to both music majors and music minors, as well as non-majors interested in studying the instrument. She serves as the principal bassoonist of the Valdosta Symphony Orchestra and Albany Symphony Orchestra.
"As the VSO's principal bassoon, Shannon Lowe is one of the orchestra's leaders," Hsu said. "She is such a fantastic musician and colleague, and in addition to her great virtuosity, her personality shows through in her playing. We are so proud to feature the talented musicians in the VSO whenever we have the opportunity."
Individual tickets for the concert are $27 for adults and $10 for students, tax and fees included. Reservations are required. A discount will be given to VSU faculty and staff, as well as military personnel and senior citizens.
Saturday's concert is sponsored by Stifel Nicolaus.
A special youth concert featuring Mozart's Bassoon Concerto and Symphony No. 38, as well as Lowe as soloist, will be held at 10 a.m. on Friday, Nov. 1. It is sponsored by the Valdosta Symphony Guild.
Whitehead Auditorium is located on the first floor of VSU's Fine Arts Building, on the corner of Brookwood Drive and Oak Street.
Visit www.valdostasymphony.org or contact Sarah Alexander with VSU's College of Arts Outreach Office at (229) 333-2150 or swalexander@valdosta.edu to reserve tickets or learn more.
About the Valdosta Symphony Orchestra
Created in 1990, the Valdosta Symphony Orchestra serves both the cultural life of Valdosta and the regional academic mission of Valdosta State University. The high standard of performance of the orchestra enables it to attract guest soloists of national and international renown to the Valdosta community. The orchestra's membership is a unique blend of resident artist-faculty, students studying professional music disciplines, talented community performers, and carefully selected professionals from a five-state region. Supported by an Advisory Board of Directors, the Valdosta Symphony Guild, Valdosta State University, corporate sponsors, and hundreds of individual patrons, the orchestra has become an important part of the cultural life of the entire region.
---
Valdosta State University's 2013-2019 Strategic Plan represents a renewal of energy and commitment to the foundational principles for comprehensive institutions.
Implementation of the plan's five goals, along with their accompanying objectives and strategies, supports VSU's institutional mission and the University System of Georgia's mission for comprehensive universities.
The story above demonstrates VSU's commitment to meeting the following goals:
Goal 1: Recruit, retain, and graduate a quality, diverse student population and prepare students for roles as leaders in a global society.
Goal 3: Promote student, employee, alumni, retiree, and community engagement in our mission.
Goal 4: Foster an environment of creativity and scholarship.
Goal 5: Develop and enhance Valdosta State's human and physical resources.
Visit http://www.valdosta.edu/administration/planning/strategic-plan.php to learn more.
Newsroom
Office of Communications Powell Hall West, Suite 1120
Mailing Address
1500 N. Patterson St.
Valdosta, GA 31698
General VSU Information
Office of Communications