October 2, 2013
13-278
Erica Even, Student Assistant
Third Annual Science Saturday Series Begins Oct. 26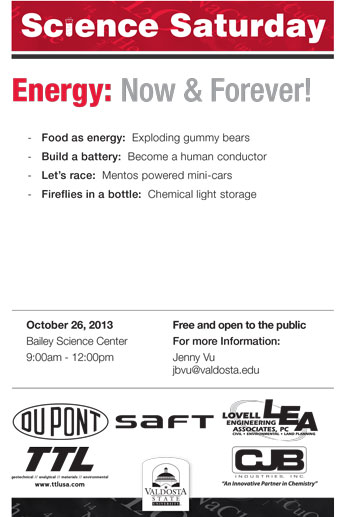 VALDOSTA – Valdosta State University's third annual Science Saturday Series kicks off Oct. 26 from 9 a.m. to 12 p.m. in the Bailey Science Center.
The Science Saturday Series is a part of VSU's College of Arts and Sciences' STEM (Science, Technology, Engineering and Mathematics) Initiative. STEM's goal is to encourage students to major in these areas and to help them succeed in those programs.
This year's series will begin with "Energy: Now and Forever."  Activities include exploding gummy bears to show food as energy and storing fireflies in a bottle to show chemical light storage. Participants will also have a chance to become a human conductor with the build a battery activity and a chance to win a Mento powered mini-car race.
Science Saturday is free and open to the public.
Sponsors for Science Saturday include DuPont Crop Protectiom, Saft, Lovell Engineering Associates PC, TTL and CJB Industries
Contact Jenny Vu at jbvu@valdosta.edu for more information about the upcoming Science Saturday.
---
Valdosta State University's 2013-2019 Strategic Plan represents a renewal of energy and commitment to the foundational principles for comprehensive institutions.
Implementation of the plan's five goals, along with their accompanying objectives and strategies, supports VSU's institutional mission and the University System of Georgia's mission for comprehensive universities.
The story above demonstrates VSU's commitment to meeting the following goals:
Goal 1: Recruit, retain, and graduate a quality, diverse student population and prepare students for roles as leaders in a global society.
Goal 3: Promote student, employee, alumni, retiree, and community engagement in our mission.
Goal 4: Foster an environment of creativity and scholarship.
Goal 5: Develop and enhance Valdosta State's human and physical resources.
Visit http://www.valdosta.edu/administration/planning/strategic-plan.php to learn more.
Newsroom
Office of Communications Powell Hall West, Suite 1120
Mailing Address
1500 N. Patterson St.
Valdosta, GA 31698
General VSU Information
Office of Communications