October 9, 2013
13-285
Jessica Pope
Communications and Media Relations Coordinator
Study Abroad Fair Encourages VSU Students to Explore the World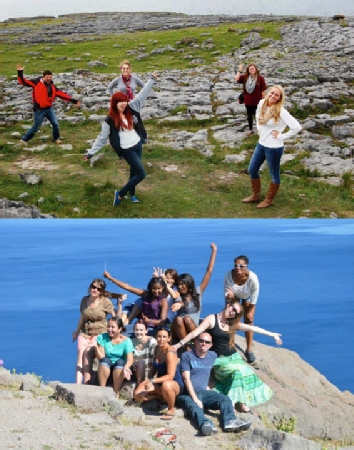 Top: VSU students in Ireland. Bottom: VSU students in Turkey.
VALDOSTA — The Center for International Programs and Honors College are joining forces to host the 2013 Valdosta State University Study Abroad Fair from 10 a.m. to 1:30 p.m. on Tuesday, Oct. 15, at the Honors House.
Interested students are encouraged to stop by and discover how they can travel the world while taking classes and moving one step closer to earning their degree.  
"The whole building will be transformed into the map of the world," shared Irina B. McClellan, Study Abroad Program coordinator and assistant director of the Center for International Programs at VSU, "and students will be able to travel from region to region and learn about study abroad opportunities available to them."
More than 20 countries will be represented, she shared, and participating students will have the chance to meet with previous VSU Study Abroad Program participants and faculty and try foods from around the world.
"Each program will have snacks and finger foods from the countries they represent," McClellan said.
The Study Abroad Fair will feature information about summer, semester-long, and year-long exchange programs available to VSU students. Financial aid can be applied to approved programs, and students do not have to be fluent in a foreign language to participate.
Programs are available in almost every field of study. McClellan said that students can take courses in everything from business, history, and political science to art and foreign language to geography, psychology, biology, and more as they explore the world around them.
Contact Irina B. McClellan at (229) 333-7410 or ibmcclel@valdosta.edu to learn more.
On the Web:
Note: The Honors House is located at the intersection of Georgia Avenue and Oak Street.
---
Valdosta State University's 2013-2019 Strategic Plan represents a renewal of energy and commitment to the foundational principles for comprehensive institutions.
Implementation of the plan's five goals, along with their accompanying objectives and strategies, supports VSU's institutional mission and the University System of Georgia's mission for comprehensive universities.
The story above demonstrates VSU's commitment to meeting the following goals:
Goal 1: Recruit, retain, and graduate a quality, diverse student population and prepare students for roles as leaders in a global society.
Goal 3: Promote student, employee, alumni, retiree, and community engagement in our mission.
Visit http://www.valdosta.edu/administration/planning/strategic-plan.php to learn more.
Newsroom
Office of Communications Powell Hall West, Suite 1120
Mailing Address
1500 N. Patterson St.
Valdosta, GA 31698
General VSU Information
Office of Communications