Students in Free Enterprise Celebrates 20 Years at VSU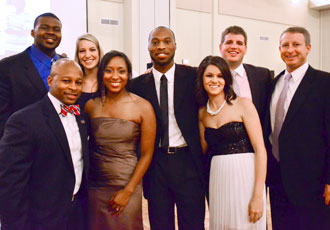 SIFE presidents past and present gather at the SIFE 20 year anniversary dinner. Front row, left to right, Jadrien Grimes, Kai Powell, Marcus Shine, and Nikki Rodgers. Back row, left to right, Joe Ervin III, Kelsey Hill, Jason Swinford, and Scott Smith.
VALDOSTA--On Sept. 14, alumni, business leaders, and members of the Valdosta State University community gathered to honor the accomplishments of Students in Free Enterprise (SIFE).
Twenty years ago, Dr. Wayne Plumly, dean of the Langdale College of Business Administration, recruited nine students to begin Valdosta State's first chapter of SIFE. The group has grown to more than 160 active members, working on 11 projects that impact the lives of children and adults from Valdosta to Kenya, South Africa.
The Valdosta State SIFE team has earned 19 regional championships, 13 top 20 placements, and five top four placements at the national competition. In addition, the team has contributed more than 100,000 service hours across the world, brining positive change to people of all ages.
The event recognized various individuals and groups for their service to SIFE in the past 20 years:
Mr. James Hornsby, for his graphic design work in preparing presentation and printed materials
The Champion of Excellence Award was presented to Pete and Ann Stone, members of the SIFE Business Advisory Board, for their contributions and support of SIFE.
Recognition of Sam Walton Fellows: Diane Guess, Jeff Shipley, Hilary Gibbs and Wayne Plumly.
Recognition of Business Advisory Board Members

Myrna Ballard, Valdosta-Lowndes Chamber of Commerce
Thressea Boyd, VSU Office of Communications
Greg Clark,  Coleman, Talley LLP
Leny Garcia-Hill, Flowers Food
Tim Jones, Citizens Community Bank
Terri Lupo, Georgia Power Company
Scott Manley, VSU Langdale College of Business Administration
Eliza McCall, Second Harvest of South Georgia
Thomas Newbern, First Federal Savings and Loan
Monica Page, VSU Langdale College of Business Administration
Stephanie Ricks, CPA
Nikki Rodgers, First Federal Savings & Loan
Scott Smith, Yancey Rentals
Pete Stone, Esq., Dover, Miller, Stone & Karas P.C.
Ann Stone, retired VSU Office of Career Opportunities
Jason & Meg Swinford, AFLAC Group Insurance
Thomas Newbern, chairman of SIFE Business Advisory Board, was recognized for his 20 years of service to SIFE. 
Recognition of "Red Coat Society," which recognizes donors who

 contribute $250 or more annually to VSU's SIFE.
The evening concluded with a special recognition of Plumly's vision 20 years ago to start a SIFE chapter at Valdosta State. VSU Enactus would also like to extend a special thanks to Nikki Rodgers and Meg Swinford for their hard work and dedication to this event as co-chairs of the 20th anniversary event planning committee.
An international organization, last year SIFE's name was officially changed to Enactus to represent and help reaffirm the organization's long-standing commitment to using entrepreneurial action as a catalyst for progress.
For more information on Enactus, visit the website http://www.vsuenactus.org/
---
Valdosta State University's 2013-2019 Strategic Plan represents a renewal of energy and commitment to the foundational principles for comprehensive institutions.
Implementation of the plan's five goals, along with their accompanying objectives and strategies, supports VSU's institutional mission and the University System of Georgia's mission for comprehensive universities.
The story above demonstrates VSU's commitment to meeting the following goals:
Goal 1: Recruit, retain, and graduate a quality, diverse student population and prepare students for roles as leaders in a global society.
Goal 3: Promote student, employee, alumni, retiree, and community engagement in our mission.
Visit http://www.valdosta.edu/administration/planning/strategic-plan.php to learn more.
Newsroom
Office of Communications Powell Hall West, Suite 1120
Mailing Address
1500 N. Patterson St.
Valdosta, GA 31698
General VSU Information
Office of Communications