Helping Students Succeed Academically is Focus of Centralized Advising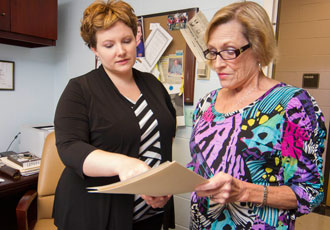 Alicia Roberson, left, and Wonnie Lefiles are part of the university's new Centralized Advising department. Roberson joined the department Aug. 1, as director, and Lefiles, has served as faculty member, advisor, and coordinator of VSU 1101 for more than 30 years.
VALDOSTA -- Valdosta State University has implemented the department of Centralized Advising to help guide first-year students through the academic advising process.
Starting fall 2014 all first-year students will be advised through Centralized Advising, including those who have declared a major.
Currently, first-year students who have declared a major are assigned an advisor within their respective college. Students who have not declared a major are advised within OASIS.
The primary mission of Centralized Advising is to help students graduate on time, increase student retention, and aid in academic and career-related advising. 
Established as part of Valdosta State's Complete College Georgia plan, Centralized Advising combines various services previously provided within multiple departments.
"First-year programming from OASIS and Student Success Center along with team members from OASIS and First-Year Programs are the foundation of our growing team," said Alicia Roberson, director of Centralized Advising. "Interdisciplinary Studies and Learning Support will remain in the Division of Academic Affairs."
Roberson, who began as director of Centralized Advising on Aug. 1, said the Centralized Advising team is branching out across campus to build relationships with departments and colleges to make sure all students will be advised properly.
"We are looking at how we need to handle students from each of the colleges," said Roberson, who first came to VSU in 2005 as an admissions counselor for transfer students. "We are also working with the data warehouse to make sure we receive student information that will help advisors determine proper intervention strategies." 
Providing academic advising is just one aspect of Centralized Advising; trained advisors will also assist students with selecting a major that meets their personal and professional goals.
"We will work with Career Opportunities to help students find appropriate majors through various assessment methods," said Roberson. "We will also work across campus to get students plugged into the appropriate resources to help them succeed."
Centralized Advising is working with Student Affairs to incorporate the new advising process for summer 2014 orientation. They will pilot the centralized advising process for College of Arts and College of Arts and Sciences students who enter VSU during the spring semester.
"The pilot program will help us with some lessons learned," said Roberson, who was the first academic services professional for the College of Nursing and Health Sciences before transferring to Centralized Advising. "We are also working with the other colleges to ensure they have a presence during orientation. We want to include them in the new model and help prepare students for transition to the college [after 29 hours of academic course completion]."
Roberson said academic advising is more than registering students for courses. It involves building relationships with the students and understanding their individual needs.
For Roberson, working in Centralized Advising is like coming home. As a first-time student entering Valdosta State University in 1999, she was an undecided major and participated in the Freshmen Year Experience. 
"I know first-hand the benefits of a first-year program and the importance of a student's relationship with their advisor," said Roberson, who graduated with Bachelor in Fine Arts in 2003 and master's degree in Marriage and Family Therapy in 2005. "Had it not been for Wonnie Lefiles, who told my dad that it was okay for me to withdraw from math, I would have failed the class instead of being able to withdraw. I was able to get the necessary academic support the next semester and passed college algebra. Sometimes it takes a person who not only understands how to navigate the course loads, but also understands the individual student and their needs. The mission of Centralized Advising is helping each student navigate a new academic environment."
Roberson credits the assistance and mentoring she received form Lefiles 14 years ago when she as a struggling first-year student.  Now, Roberson and Lefiles are both part of Centralized Advising and look forward to helping many more students achieve academic success.
"What we need to do in Centralized Advising is more holistic in nature, for instance helping students who are on academic probation because of family issues," said Roberson. "We need to talk with these students and help them determine if they need to drop to part time for a semester. We need to help them determine their options. Our job as full-time professional advisors is to know the options and help the students make informed decisions regarding their education."
Roberson said Centralized Advising will work with first-time students to fully integrate them in using DegreeWorks, which was implemented in 2009 to provide real-time academic advising information to students and advisors. 
"With DegreeWorks every student will have a plan in place. If you can help students see from the beginning where they have to get, then they have a goal, that vision."
Centralized Advising, under the Division of Enrollment Management, Marketing and Communications, is located University Center South, room 1115. For more information, call Centralized Advising at 229-245-4378.
---
Valdosta State University's 2013-2019 Strategic Plan represents a renewal of energy and commitment to the foundational principles for comprehensive institutions.
Implementation of the plan's five goals, along with their accompanying objectives and strategies, supports VSU's institutional mission and the University System of Georgia's mission for comprehensive universities.
The story above demonstrates VSU's commitment to meeting the following goals:
Goal 1: Recruit, retain, and graduate a quality, diverse student population and prepare students for roles as leaders in a global society.
Goal 3: Promote student, employee, alumni, retiree, and community engagement in our mission.
Goal 4: Foster an environment of creativity and scholarship.
Goal 5: Develop and enhance Valdosta State's human and physical resources.
Visit http://www.valdosta.edu/administration/planning/strategic-plan.php to learn more.
Newsroom
Office of Communications Powell Hall West, Suite 1120
Mailing Address
1500 N. Patterson St.
Valdosta, GA 31698
General VSU Information
Office of Communications