Celebration of Inclusion Continues with Political Symposium Tuesday, Oct. 22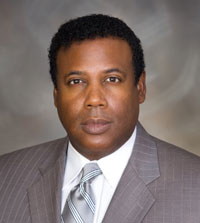 VALDOSTA – Valdosta State University continues its 50 Years of Integration celebration with a political symposium at 7 p.m. Tuesday, Oct. 22 at the University Center Magnolia Room. The event will be preceded by a reception at 6:30 p.m. and is open to the public.
The event will focus on minorities in politics, pressing political issues that affect diversity and the influence of media in politics. Guest speakers for the political symposium include Attorney Robert "Bobby" Shannon and Attorney Ashley Bell, both graduates of Valdosta State. 
The first African-American president of Valdosta State's Student Government Association, Shannon serves as one of the university's pioneers of integration. During his time at Valdosta State in the early 1980s, he served as a student newspaper staff member, campus radio staff member, student orientation leader, member of the Air Force ROTC Det. 172 and member of the Kappa Delta Chapter of Phi Beta Sigma Fraternity.
Shannon received a Bachelor of Arts in Political Science from Valdosta State College in 1981, a Master of Science in Consumer Studies and Research from Oklahoma State University in 1986 and a Juris Doctor from the University of Georgia in 1991.  In 1981, he was commissioned as a second lieutenant in the United States Air Force, and transferred to the Georgia Air National Guard in 1988. He is now a senior partner in the Atlanta office of Hall Booth Smith, P.C. as well as a brigadier general and the vice commander of the Georgia Air National Guard.
Bell is the 2013 African-American Studies Outstanding Alumnus of the Year from VSU's College of Arts and Sciences. During his time at VSU, he served as SGA president and was a charter member of the university's chapter of Iota Phi Theta Fraternity. He received his bachelor's degree in political science and attended law school at the University of Georgia and Louisiana State University.
In 2008, Bell became the youngest commissioner to be elected in Hall County, Ga. at age 27. He is an attorney and partner at Bell & Washington LLP, practicing law throughout the state.
The reception for the symposium is sponsored by the 100 Black Men of Valdosta and includes live entertainment by the VSU Jazz Ensemble.
VSU kicked off "50 Years of Integration: A Celebration of Inclusion," a yearlong commemoration of integration and its historical impact and how it has shaped the university, on Sept. 18.
"The committee members have been working tirelessly to create a calendar of events that reflect the significance of the celebration, honor the bravery of the pioneers and engage the current VSU community to discuss paths for future progress," said Dr. Maggie Viverette, director of Social Equity. "Just as the changes that occurred on the campus 50 years ago impacted the faculty, staff and students it is the hope of the committee that the schedule of events will engage and impact the subgroups of today's campus community."
The Office of Communications has established a "50 Years of Integration: A Celebration of Inclusion" website as well as a Facebook page that highlights the yearlong celebration and provides stories on Valdosta State's pioneers, photographs, and updates on events associated with the commemoration. Visit the website at http://www.valdosta.edu/about/news/integration/ and follow on Facebook at VSU50.
For more information about the political symposium, contact Malynda Dorsey, communications specialist, at (229) 333-7177 or mmdorsey@valdosta.edu.
---
Valdosta State University's 2013-2019 Strategic Plan represents a renewal of energy and commitment to the foundational principles for comprehensive institutions.
Implementation of the plan's five goals, along with their accompanying objectives and strategies, supports VSU's institutional mission and the University System of Georgia's mission for comprehensive universities.
The story above demonstrates VSU's commitment to meeting the following goals:
Goal 1: Recruit, retain, and graduate a quality, diverse student population and prepare students for roles as leaders in a global society.
Goal 3: Promote student, employee, alumni, retiree, and community engagement in our mission.
Visit http://www.valdosta.edu/administration/planning/strategic-plan.php to learn more.
Newsroom
Office of Communications Powell Hall West, Suite 1120
Mailing Address
1500 N. Patterson St.
Valdosta, GA 31698
General VSU Information
Office of Communications