VSU Commemorates 50th Anniversary of I Have a Dream Speech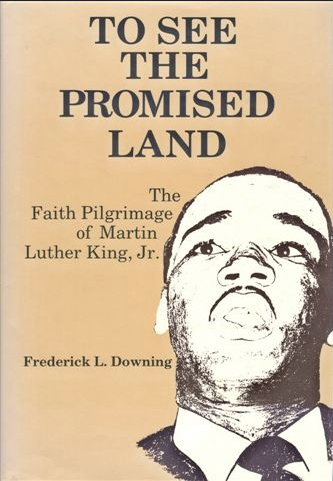 Cover from Dr. Frederick Downing's book To See the Promised Land: the Faith Pilgrimage of Martin Luther King, Jr.
VALDOSTA – Valdosta State University joins the community and nation as it remembers 50 years since Dr. Martin Luther King, Jr. delivered his famous speech, "I Have a Dream" at the 1963 March on Washington for Jobs and Freedom.
"To read the Rev. Dr. King's speech is to be reminded of our human rights and dignity, and of our obligations to one another," said Dr. William J. McKinney, president of VSU. "While this 50th anniversary serves as a reminder of one of the most important speeches in our country's history, every day should serve as a reminder of our rights and responsibilities as citizens.  As we at Valdosta State commemorate 50 years of racial integration, and the world remembers 50 years of 'I Have a Dream,' let us be ever-mindful of the brave women and men of all races who have worked tirelessly in the noble cause of justice for all.  From 19th century abolitionists to 20th century suffragists, and on to the freedom riders and marchers of the 1960's, we are reminded that those certain unalienable rights belong to us all.  It is my hope that on this day, and every day, we remember the Rev. Dr. King's words, and that the cause of justice is a responsibility belonging to all Americans."
King's speech advocated for harmony and freedoms among all races. It included references from the Declaration of Independence, Gettysburg Address, Emancipation Proclamation and U.S. Constitution.
"This is a monumental year not only for our nation, but for the university as well," said Will Jimerson, president of VSU's Student Government Association. "In the same year that Dr. King delivered his 'I Have a Dream' speech, the first two black students stepped foot on the campus of Valdosta State. This is a time for the students and university as a whole to come together to remember, reflect and recognize that we are living out that dream, but also realize that we still have more work to do at the university and in America."
Dr. Shirley Hardin, director of VSU's African-American Studies program, stated that while the nation has come closer to racial, political, social and economic justice, fully accomplishing King's dream will take a concerted effort from all members of the community and nation.
"Unfortunately, too many Americans feel that African-Americans and other minorities have been given enough rights and resources to 'pull ourselves up by the bootstraps' - an impossibility both figuratively and physically, " said Hardin. "The one thing that I am convinced of is that our destiny is inextricably linked with all of America and that we rise and we fall together. The stench of racism, prejudice, discrimination, hatred and injustice of any kind affects us all, whether we are the victims or the perpetrators.  In the words of critic and novelist James Baldwin, 'America is my country, right or wrong.' Thus, it is incumbent upon each of us, American citizens and even those who claim America as their own, to recognize the unassailable dignity and humanity of all people, all members of this vast 'human' family."
Dr. Calvin Walker, associate professor of African-American Studies, challenges his students to carry the torch that was passed on by King and other pioneers in the Civil Rights Movement.
"We have gotten too comfortable while there are still people being discriminated against and we still have these racial and social divisions that must be improved to move us further," said Walker. "I make sure that my students know that it is their job to take us further."
To read the full text of "I Have a Dream" visit http://www.archives.gov/press/exhibits/dream-speech.pdf .
Quick Facts:
•  Dr. Frederick Downing, head of VSU's Philosophy and Religious Studies Department, authored the book, To See the Promised Land: the Faith Pilgrimage of Martin Luther King, Jr., and has written published articles chronicling Dr. Martin Luther King, Jr.
• VSU's annual celebration of Martin Luther King Day has featured various known celebrities, politicians or trailblazers in the Civil Rights Movement such as Author Omar Tyree, Coach Herman Boone, Food Network star Aaron McCargo, Jr., Dr. Dennis Kimbro and Rep. Bakari T. Sellers.
---
Valdosta State University's 2013-2019 Strategic Plan represents a renewal of energy and commitment to the foundational principles for comprehensive institutions.
Implementation of the plan's five goals, along with their accompanying objectives and strategies, supports VSU's institutional mission and the University System of Georgia's mission for comprehensive universities.
The story above demonstrates VSU's commitment to meeting the following goals:
Goal 1: Recruit, retain, and graduate a quality, diverse student population and prepare students for roles as leaders in a global society.
Goal 3: Promote student, employee, alumni, retiree, and community engagement in our mission.
Visit http://www.valdosta.edu/administration/planning/strategic-plan.php to learn more.
Newsroom
Office of Communications Powell Hall West, Suite 1120
Mailing Address
1500 N. Patterson St.
Valdosta, GA 31698
General VSU Information
Office of Communications